Heisinger grateful for AHL experience
By: Mitch Peacock | Published: July 13th 2017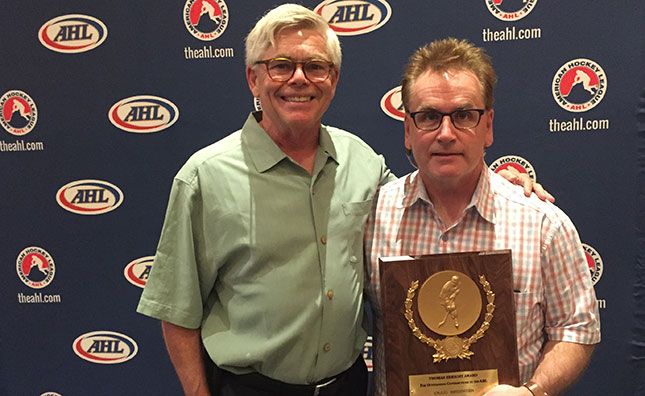 Craig Heisinger, or Zinger, as he's affectionately known, is a hockey lifer.
He's a tireless worker who humbly says he only ever wanted to be the trainer for the local pro hockey team.  Zinger turned that dedication and passion for the game into a highly successful career as an executive.
Today, his title tells you just how valuable he is to the Winnipeg Jets. Heisinger is the Senior Vice President and Director of Hockey Operations/Assistant General Manager of the Jets and General Manager of the Manitoba Moose.
Last week, Craig's impact on the game was recognized by the American Hockey League – a league he holds in very high regard thanks, in part, to its place in his development.
CAREER CONTRIBUTIONS CELEBRATED
The AHL Board of Governors gathered at Hilton Head, South Carolina last week for their annual meeting where important league matters are dealt with and a little time is set aside to honour the league's difference makers.
Craig Heisinger was among those called up on stage on the evening of July 5, and this was no minor pat on the back.  Zinger was awarded the Thomas Ebright Award for career contributions to the American League.
Anyone who's had the good fortune of getting to know Craig knows the first thing he'd say about all that hullabaloo is that 'it means you've been around a long time, and are getting old.'
Don't be fooled by that hockey-ingrained modesty.  We're talking about a person who has been deeply involved with the AHL since 2001, when the Moose joined a group of teams in moving over from the International Hockey League to the American League.
In fact, just one season into Manitoba's AHL membership, Heisinger was promoted to General Manager of the Moose.  It's a post he's held ever since – including when the team moved to St John's upon the return of the NHL to our province.
AHL IMPRESSED FROM THE START
Heisinger has long loved hockey, but really developed an appreciation for all of the nuances of the business by spending countless hours as a trainer in junior hockey, minor pro, and the NHL.
The time Craig invested soaking up what matters to players, coaches, and management types, as well as their families helped him to bring a great attention to detail to his work as he switched over to the executive side.
Early in that transition, as the Moose became members of the American League, Zinger recalls going to league meetings and immediately recognizing the AHL was something special.
"There was nothing fly-by-night about the American Hockey League, and there were some things that were fly-by-night about the International Hockey League, and just the level of professionalism. (AHL President/CEO) Dave Andrews himself, the guys that were involved in the League, you could see why it was the second-best league in the world and would give you an opportunity to cut your teeth whether it was to stay at the American League level or to move on to another level."
A LEARNING ENVIRONMENT
In the seasons since the Moose joined the American League, and since Zinger made the move up from the club's Assistant GM, there have been many triumphs to celebrate (like 10 trips to the playoffs and two appearances in the Calder Cup Finals).
That said, there have been opportunities for growth too. Zinger is quick to point out plenty of lessons have been learned along the way.  It's through some of the closest connections forged within his AHL network that much of this education has taken place.
People like current Anaheim Ducks' head coach, and former Moose coach/exec, Randy Carlyle and widely-respected American League executive Glenn Stanford have been central to Zinger's growth.
"He'd been (Stanford) around the League a lot longer than I had when I first joined.  There was a time when I thought I had all the answers, but the problem was I didn't know half the questions.  Glenn was very open to telling me there was a reason I had two ears and only one mouth.  I learned a tremendous amount from Glenn.  To this day, as much as Randy Carlyle and I learned together, between Glenn and Randy I don't know that there's two people on the planet that I've learned more about the hockey business (from) than those two."
In a neat twist of fate Stanford was also honoured at the Board of Governors meeting last week – a nod to an impactful 25 years of dedicated service to the AHL.
PROVEN PATH
One thing is still clear to Heisinger, with more than 15 years in the American League and gearing up for another season.  As much as the AHL appreciates his contributions, he feels very strongly about the league's place in the game.
"I think it's pretty evident – not only from a player perspective, but from a coaches' and managers' perspective – that all roads go through the American Hockey League to the National Hockey League. I think it's very rare that you get to the National Hockey League without setting foot in the American Hockey League, whether it's a long period of time or a short period of time," said Zinger during a recent phone interview from the road. "And, I think if you don't set foot in the American Hockey League, you're not as prepared for the National Hockey League as you should be either as a player, or as a coach, or as a manager."
Here's to many more years of Zinger and the AHL teaming up.  It's a relationship that's been invaluable to both parties, and a connection that's added so much to hockey life here in Manitoba.