Introducing Camp Quality Manitoba
By: Manitoba Moose Staff | Published: November 19th 2018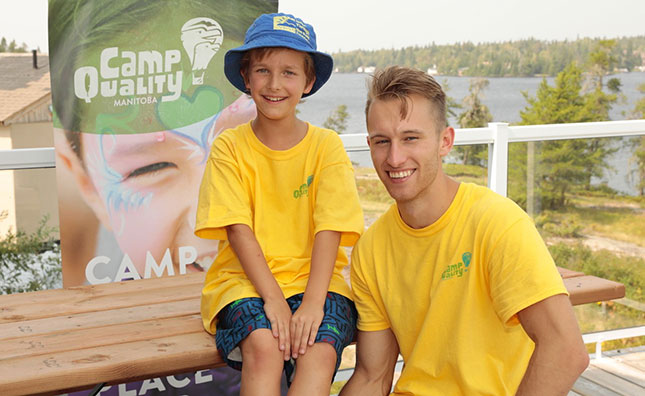 Providing Opportunities to Children Affected by Childhood Cancer
Story provided by Camp Quality
Camp Quality has been operating in Manitoba for the past 14 years. They are a completely non-profit organization providing year-round support to families with children with cancer. All of the organization's events are free of charge to the families with the biggest event being a free week-long overnight camp at Variety's Camp Brereton.
The work of Camp Quality in offering children and youth affected by cancer an opportunity to simply be kids is a big reason why Camp Quality was chosen to be the beneficiary of the first-ever Manitoba Moose Hockey Fights Cancer campaign. While the Moose have always been part of the NHL initiative by supporting the fundraising and awareness efforts of the Winnipeg Jets' HFC campaign, this season marks the first time that the Moose will host their own unique HFC campaign.
"We are excited to be extending the generosity of our fans to benefit another great organization in our community," said Raquel Payne, Community Relations Coordinator for True North Sports + Entertainment. "Camp Quality provides amazing resources for kids affected by cancer and with the Manitoba Moose also being family focused, they were a great fit for the first Moose HFC campaign."
At Camp Quality, kids with cancer have the opportunity to make new friends, explore nature, try new activities, and thrive in an environment where they are not defined by their cancer experience, but by their excitement for the future.
"You can truly see the children come out of their shells the minute they arrive at camp," said Ainsley Kullman, Camp Quality Manitoba's Volunteer Director.
Kullman further explained that a visitor to the camp this past summer was taken aback by how no one treated anyone differently. "They couldn't tell who had cancer and who was a sibling. This is really what camp is all about."
Camp Quality Manitoba had 56 campers this year with many others on a wait list. "The need is definitely there for this population," said Kullman, noting that funds raised through the Moose HFC campaign will allow them to invite some of those kids on the waiting list to camp in 2019.
It's a full week for everyone at Camp Quality Manitoba with swimming, sports, boating, canoeing, kayaking, crafts, games and more to take kids' minds off of their health challenges.
Take it from one of the campers who left their review on Camp Quality Manitoba's Facebook page and there will be no doubt the impact that the experience has on kids who really need it. "I went to Camp Quality on my birthday, we had kinder eggs! My companion was named Scott, he was the best, he was so funny! Every day we had a different activity. We had a lip sync battle and costumes, the camp was a week. It was so fun."
Join hockey's fight against cancer by attending the Manitoba Moose Hockey Fights Cancer game on Nov. 24. The 50/50 proceeds from that game will be donated to Camp Quality Manitoba courtesy of the True North Youth Foundation. Mystery autographed pucks will be sold and two Moose goalie masks will be part of an online auction with all funds raised going toward giving more kids the opportunity to experience adventures at Camp Quality Manitoba.
To learn more about Camp Quality, visit campquality.org/camps/manitoba.
Fore more information on the Moose HFC campaign visit moosehockey.com/hockeyfightscancer or go to moosehockey.com/tickets for tickets.