It all starts at home
By: Mitch Peacock | Published: August 10th 2016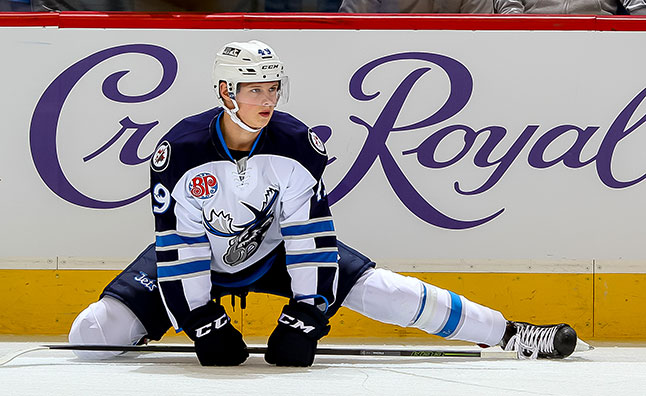 Almost everyone feels more comfortable at home, and Moose forward Jiri Fronk is no different.
Heck, the 22 year-old Czech enjoyed life at MTS Centre so much last season he not only scored his first pro goal in the home of the Moose, but he scored all six of his goals in front of the faithful in downtown Winnipeg.
Now that's not to suggest he opted not to score on the road, it's more a statistical twist from his first year as a pro, but it's fitting because home plays into his story on a deeper level.
TIME OF CHANGE
Last season was Fronk's first without a billet-family – the first where everything fell on him.
Like a few of his Moose teammates, Fronk was not only trying to figure out how to play pro hockey last season, he was also making sure he was on top of off-ice basics like laundry and cooking meals (alongside roommate Jan Kostalek).
Real responsibilities that called for real adjustments by the rookie, but adjusting that will only help as he prepares for his second season.
CZECH-ING IN
And since we're on a "home" theme, Fronk is gearing up for bigger and better things by training back in his hometown of Louny, Czech Republic this summer – a city of about 20,000 an hour or so from Prague.
It's a special place for the talented forward because he left its comforts to chase his hockey dreams at the tender age of 14.
Fronk says back in those days he'd get to visit with mom and dad a few days a week, but the last three seasons he's been away almost continuously and loves being able to re-connect with family when his schedule allows.
GETTING BETTER
These days being at home also means he's working with trainer Jan Muller to improve his leg strength to help with one-on-one battles along the boards. Plus, he's involved in a program that aims to increase his quickness.
Fronk says he also being educated on nutrition and getting the proper amount of rest – further signs of a maturing approach.
It's all about building on his first taste in pro – eight points in 33 AHL games and two points in five games with the Tulsa Oilers.
And for Fronk it's also about delivering on a promise – both to himself and to club management.
"They asked me before the season (last season) what kind of player I am, so I said I'm a goal scorer, so I need to be that," says Fronk. "I hope this year I'll get even more chances to score goals."
It seems like something you'd hear from a player ready to make his mark wherever he suits up.