New Moose assistant embraces opportunity
By: Manitoba Moose Staff | Published: July 27th 2017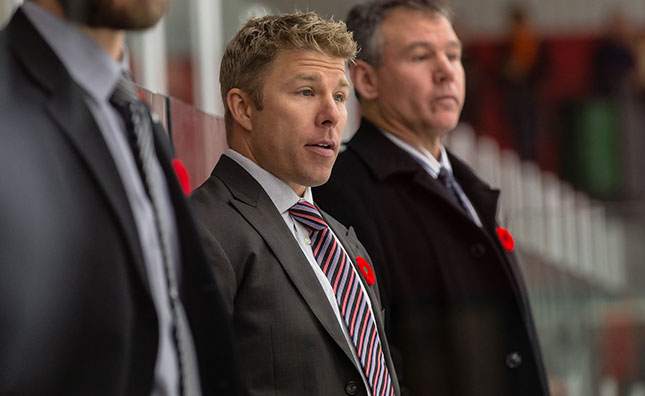 The Manitoba Moose were in the market for an assistant coach when the talented and experienced Mark Morrison signed on to help out Randy Carlyle's Anaheim Ducks earlier this summer.  That search came to an end on July 19 when the team named Marty Johnston to Pascal Vincent's staff last week.
It's a hard-earned promotion for the former QMJHL captain, Memorial Cup winner, minor-pro forward, and long-time head coach at Ottawa's Carleton University.
Johnston was in charge of the Ravens for seven years after serving as an assistant coach with the program before that.
The married father of two young children is looking forward to making the move to Winnipeg, and the jump to the American Hockey League, but wasn't always thinking of coaching.
MAJOR LEAGUE MENTOR
Montreal Canadiens' Head Coach Claude Julien has done it all as a bench boss: Memorial Cup title, American League coach of the year, Stanley Cup champ, NHL coach of the year, Olympic gold, and World Cup winner – pretty much all you need to know.
Back in the late 90's when Julien was building a reputation for excellence, he led the Hull Olympiques to a Memorial Cup championship and Marty Johnston was a rookie forward on that team.
For the next two seasons, Johnston wore the captain's 'C' for Julien's Olympiques a run that led to a connection between the two. As it turns out, it was Julien who started Marty thinking about a coaching career of his own.
A gift to be sure, but one that took a little sorting through to appreciate.
"When I was 20, and I left (the Olympiques), I had my exit meeting in Hull and I was hoping Claude would tell me I had great pro opportunities (as a player) ahead of me and he said to me, 'you know when you're done playing you should really consider coaching.' So, he crushed my dreams in one sense, but he also opened my eyes in another," said Johnston with a bit of a chuckle. "Walking out that day when I was 20 it was – I can remember thinking, 'what just happened?' But, it started the thought process and then from there it slowly developed over time."
After three outstanding seasons at Dalhousie University, including one that earned Johnston league MVP honours, Marty turned pro and played three years in the AHL, ECHL, and Britain before ultimately coming around to Julien's suggestion.
"I'm lucky enough that he's kind of become a mentor and friend over time and I'm very thankful for the advice he's given me over the years."
The two remain in contact and Julien's endorsement of the way things are run in Winnipeg helped convince Johnston, and his wife Roxanne, that a move west was the way to go.
"How he (Julien) described the people that he knew in the Jets' organization made it that much more comfortable for us to believe in making this step."
UNIVERSITY COACHING BASE
Johnston joins the Moose after posting an impressive 129-49-and-12 mark in his seven seasons at the helm with Carleton.
The 38 year-old led the Ravens to a pair of national championship tournament appearances during his tenure and he picked up conference coach of the year honours three years ago.
As much as Marty takes pride in the pro-style environment he and his staff provided for his student/athletes there's something bigger he appreciates about his university coaching experience.
"It's hockey, but you watch them (the players) develop as people, and you get to know them as people. It's really rewarding to see them grow from a 21 year-old to a 24 or 25 year-old when they leave."
Former NHL'er Shaun Van Allen has been named interim head coach at Carleton, a position he's apprenticed for for seven years as an assistant to Johnston, a continuity that means a lot to the new Moose assistant coach.
"I wanted to leave knowing it was in good hands, and that the program was in a spot where we're continuing to move forward," said Johnston during a phone conversation from his Ottawa home. "I'm comfortable leaving knowing that the players are in good hands."
MOOSE OPPORTUNITY
Johnston anticipates sliding into Morrison's role of guiding the power play and working with the forwards, but knows he brings his own experience to the job and isn't looking to fill the big shoes left behind by the new Ducks' assistant coach.
The off-season move for the Johnston's means Marty doesn't have any players to work with right now, but that isn't stopping him from getting started.
"I'm really anxious to get my hands on some video and get as much information on what made us successful last year and what maybe Pascal and Eric felt that we need to improve on," said Marty knowing that video will be provided by Moose video coach Richard Bue, who held the same role on Johnston's staff at Carleton. "I think that if we do our homework and we put in our time by researching that way, that's the best thing that I can do for our players."
As for long-term personal goals for the new guy, it sounds like he's got his focus squarely on the task at hand.
"I kind of gave up on the idea of having a long term plan and decided a couple of years ago it's more about staying in the moment and doing your job really well and letting all those other details take care of themselves. I'm not going to look too far ahead. I think it's more important to expend all of your energy into what you're doing right now and letting that play out."
An interesting perspective from the newest Moose coach, one that's helped him climb to impressive heights in a career he may never have considered without a little help from one of the game's finest bench bosses.