Q&A With Marty Johnston
By: Mitch Peacock | Published: September 6th 2018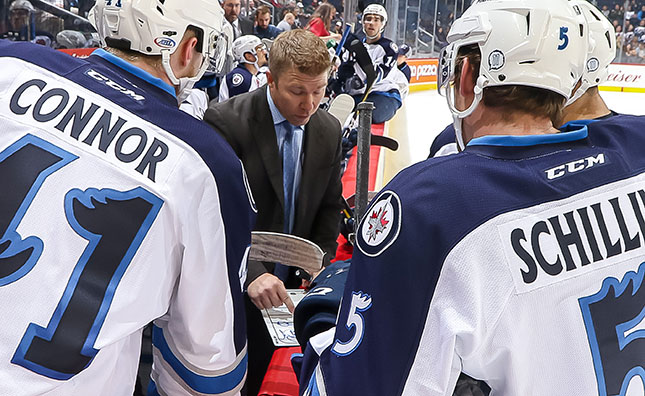 After 10 years with the Carleton University men's hockey team, including seven seasons as head coach, Marty Johnston made the jump to pro hockey last season with the Manitoba Moose.
It was an exciting time for Marty, wife Roxanne, and kids Murphy and Abigail as the family packed up and moved west from Ontario. If the first year is any indication of what's to come, there's plenty more excitement ahead.
With the 2019 edition of the Young Stars Classic in Penticton, B.C. fast approaching, the Johnston's are nicely settled in Winnipeg and enjoying life in Manitoba.
Recently, moosehockey.com chatted with the Moose assistant coach on his first 12 months in the Winnipeg Jets' organization.
MP: Let's start with what you felt was the biggest difference between being a U Sports head coach, and becoming an American Hockey League assistant coach.
MJ: The scope of the job was much different. You wear many hats as a head coach at the U Sports level.  At the American League level you have a very defined role, and really get to dig in on the hockey aspect – the specific things that are set out by the head coach. So, it was really nice to become more micro than macro this past year.
MP: I'm going to flip it around now, how valuable was it for you to be able to be a U Sports coach all of those years to prepare for something like this?
MJ: As a young coach it was really good for me to have the ability to make some mistakes, and try some new things at a point where the spotlight wasn't necessarily as bright at that point in my coaching career. To be able to go through those experiences, have the reps as a head coach and figure out what works and what doesn't was really good. I'll be the first to admit my first few years coaching – I feel like I'm a much different coach than I was those first few years. The benefit of that experience has really helped me prepare for what is obviously a great level at the American Hockey League.
MP: Part of your experience coming in to the Manitoba Moose was coming into a coaching staff that was already in place. Was that a positive to have the structure in place already? Was it daunting to come in and know these guys had been around the block a little bit?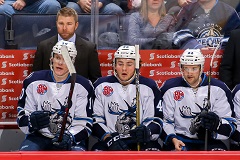 MJ: I have to admit, I mean I had some experience with Richard because we worked together at Carleton, but as far as Pascal and Eric, I really didn't know them at all. I knew that they were highly qualified coaches that were excellent at their craft so it was a little intimidating at first. After spending a week with the Moose, I realized how impactful Mark Morrison was as well to the team, and to the organization, and it was a challenge trying not to focus on that at times. I have to give Pascal a huge amount of credit (for) the fact that he's someone that's willing to delegate, allow each person on the staff to do their job and feel very valued.
At the same time really spending almost every minute of every day with Eric – and he was just an excellent guy to work with as far as figuring things out – going through the first road trips and going through the first training camp he was just an outstanding resource to have. I felt it didn't take long for us to gel as a group, and that's obviously due to the leadership that Pascal has with our coaching staff and with our team.
MP: Well it's interesting because you jump in with a team that hadn't been to the playoffs in several years and you end up spending a good chunk of the year not only in first place in the division, but in the overall standings. You get back to the playoffs. You get a victory in round number one, and Pascal Vincent along the way is named coach of the year.
So, how exciting was it to be part of that success?
MJ: Yeah well, I think the focus should be on Pascal to be honest. But at the same time, it was a pretty neat feeling to see the looks on both Richard (Bue) and Eric's (Dubois) faces when we found out he had won that award because we were really happy. Genuinely happy for him because he puts in a lot of time, and he devotes huge amounts of time to make sure we're fully prepared in our game plans in our coaching plans. It couldn't have happened to a more qualified and hard-working person.
MP: As the season got started for you (last season), was there a rookie moment for you? A moment where you went "oh boy" I'm the new guy alright.
MJ: Yeah, it was actually at rookie camp in Penticton – when we had called our first offensive timeout – I drew up the faceoff on the wrong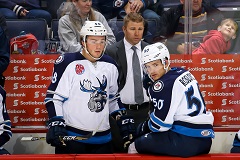 side of the ice. I felt like that was my first moment to show Pascal and Eric that I was ready, and there it was, I drew up the faceoff on the wrong side of the ice.  I quickly had to scramble in that 30-second timeout to make something happen. I definitely can laugh about it now, but died a thousand deaths in that moment when that happened.
MP: So now that you've been through the grind of the season, and the schedule would have been quite different from what you would have experienced at the U Sports level, especially when you tack on a couple of rounds of playoffs. How good has it been to be with your family a little bit more and re-charge the batteries?
MJ: Yeah, it's kind of the running joke here (at home).  I had to work eight, nine weeks of hockey school for the last eight, nine years so the kids (ages 9 and 10) didn't really know what it was like to have me around in the summer so it was really enjoyable. I think maybe there were times when they were ready for dad to go do something.  We did some traveling, and got to spend some time with family.  We've really enjoyed our time in Halifax and Ottawa, but we were also really looking forward to getting back to Winnipeg to get back to the friends that we've made here. It didn't take long for our family to feel very welcomed in Winnipeg from the communities, and the minor hockey programs that our children our involved with.
—
Marty will be seeing a little less of the family soon though as the Moose coaching staff leads the Jets' prospects in Penticton and the former Carleton bench boss begins his second term.