Jets Signings Were Key Parts of Moose
By: Daniel Fink | Published: June 7th 2019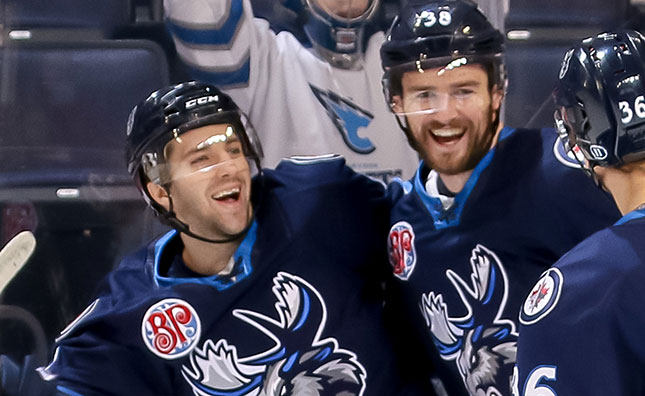 The Winnipeg Jets have been busy signing pending free agents this week.  The NHL club inked four players who were integral pieces of the Manitoba Moose for the 2018-19 season.  The list featured Manitoba's top two point-getters in Seth Griffith and Logan Shaw, along with the highest scoring right winger in franchise history in JC Lipon, and forward C.J. Suess, who rattled off eight goals in an injury-shortened season.  The quartet were a crucial part of the Moose offence last season, scoring 62 of the team's 197 goals (31.5%).
Of the four, Griffith and Lipon were slated to become unrestricted free agents, while Shaw and Suess were restricted free agents.  Shaw and Suess signed with the organization on May 31, while Griffith and Lipon inked deals on June 6.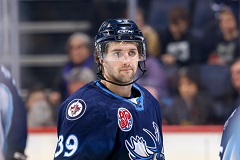 With 57 points (16G, 41A) in 69 games, Seth Griffith racked up his highest point total since the 2015-16 season when he posted 77 points (24G, 53A) in 57 appearances with Providence.  The bulk of his production came in the second half of the season as the Wallaceburg, Ont. product accumulated 40 points (11G, 29A) in the final 42 games.
"I think I played with confidence night in and night out (in the second half).  I got to the point where at the beginning of the season it wasn't going my way and I got injured," recalled the veteran forward.  "In hindsight that injury kind of helped because it gave me a chance to regroup and come back pretty strong."
Griffith was a consistent producer for Manitoba, only going two or more consecutive games without a point seven times throughout the season on his way to leading the club in scoring.  Despite all that, Griffith is looking for bigger and better things in the 2019-20 season.
"Even with the level of productivity I had last year, I still expect a lot more from myself.  I consider last year a down year for me.  So I'm definitely looking to rebound this year."
Part of Griffith building on his first season in the Jets organization may come from some continuity.  The forward has played in five different organizations and on eight different teams.  Re-signing with Winnipeg gives Griffith on opportunity for some stability.
"With moving around so much the last few years, it's nice going into camp and having a better idea of what to expect for camp this year and familiar faces.  I think there's going to be a better level of comfort, and I think with that comes better play.  I'm looking forward to it."
JC Lipon has been a mainstay with the organization, joining the St. John's IceCaps for the 2013-14 season after being selected in the third round (91st overall) by the Jets in 2013.  Since then, Lipon has appeared in 400 games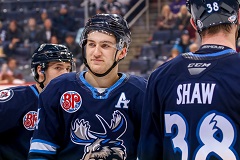 between the Jets, Moose and IceCaps, with 391 of them coming at the AHL level.  The Regina, Sask. native ranks fifth in Moose history in career games played and third in penalty minutes (739).  He is also the franchise leader for assists (124) and points (191) by a right winger.  Having been a part of the Jets organization for six seasons, Lipon is happy to have made his mark with Winnipeg's affiliate.
"It's cool being a veteran and getting up there in the games played.  Obviously the goal is to make the big club all the time, but the Moose have treated me well.  It's a great city to play in for the minors.  We get to fly and (the organization) is pretty first class."
This off-season presented the veteran forward with his first opportunity to test the waters of unrestricted free agency.  At one point the idea of trying out a new organization held some appeal for Lipon, but more recently his thoughts turned to remaining in Winnipeg.
"I guess when I was younger… maybe a couple years ago you're kind of looking forward to seeing what else is out there.  But after you have your whole career in Winnipeg it's hard to leave.  I'm happy to be back and it should be fun."
While Griffith is a relative newcomer to the organization and Lipon was the longest-tenured Moose skater last season, the two had something in common when detailing their reasons for staying in Winnipeg.  Their teammates and the staff they work with on a daily basis.
"Griffith and Shaw reached out to me and we've been talking a bit," explained Lipon.  "So it's cool (they're back), and I was just in Winnipeg and worked out with Peter Stoykewych.  So it's good that we have that 'older guy' group coming back."
"There was a lot of upside with the exit meetings," said Griffith.  "It's just a good group of people in the organization.  I think that's the main reason I wanted to come back, just good people."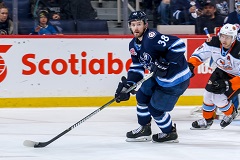 May 31 Signings
Logan Shaw enjoyed a breakout offensive season, scoring 29 goals (27 with the Moose) and finishing the campaign with 51 points.  It was a mark that surpassed all but his final season of junior hockey in production.  Shaw's goal total outpaced his previous AHL career high in points.  The Glace Bay, N.S. product's offensive explosion was helped along by 14 power play goals on the season.  As 13 of those came with the Moose, Shaw posted the most power play tallies by Manitoba skater since the 2006-07 season.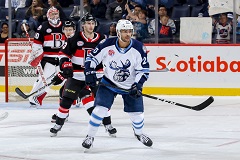 C.J. Suess rounds out the group of signees, and is the least experienced of the group.  The 2014 Jets draft pick burst onto the scene this season, scoring five goals in his first six games of the campaign.  Unfortunately the Forest Lake, Minn. Product was held to 26 games as an upper body injury sustained Dec. 14 against Toronto ended his season early.