Kramer a presence with Moose
By: Mitch Peacock | Published: August 22nd 2017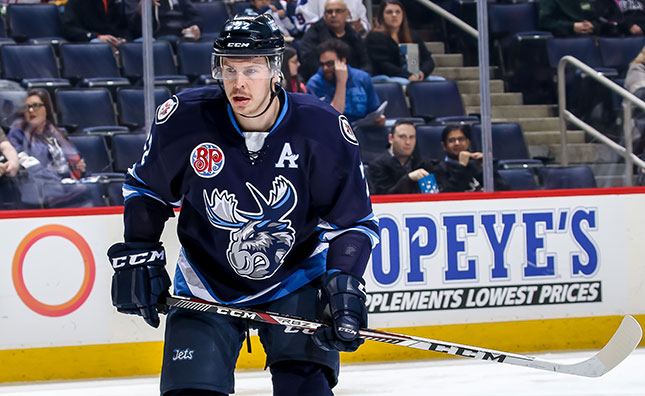 "Baseball is 90 per cent mental, and the other half is physical."
The late Yogi Berra brought about a lot of laughs over the years with his unique views on the sport he dedicated his life to, but there was a lot of truth in those takes.  Those truths often apply beyond the diamond to other sports, like hockey.
Moose winger Darren Kramer can speak to the mental challenges of pro hockey life. This past campaign was the bruising winger's fifth season as a pro, but in many ways it was new territory.
Every year presents its challenges, and this time around Darren found himself battling for a place in the lineup on a youthful team and working to earn the confidence of new Head Coach Pascal Vincent.
"Pascal and myself, we had to build a relationship," said Kramer in a telephone interview. "I had to get to know him. He had to get to know me, and it took a little bit for him to trust me on the ice and see what I could do. But, at the end of the year we really started to get along well and good things started to happen."
While things did start slowly, the Albertan demonstrated his value over time and now is gearing up for the sixth season of his career and a third in Moose colours.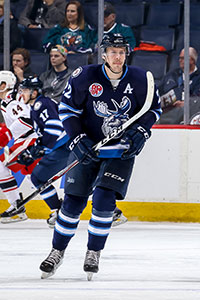 ADAPT OR DIE
Players want to play in games, and competitors like Kramer want to be in uniform for their teammates.  That's why last season was so tough for the now 25 year-old.
Every day he'd prepare to play the next game, but he was a scratch for each and every one of the first seven games.  In fact, there was a mid-season stretch where number 22 was on the ice for eight games in a 31-game span.
It's the kind of situation that tests your resolve, confidence, and ability to put the team first.
For Kramer, it was a challenge he was willing to take on.  He's quick to credit his wife, Kelsie, for helping him negotiate the obstacles life offers up.  Kramer also didn't hesitate to mention the backing of Moose captain Patrice Cormier.
"Working with Cormier, he really kept me positive. We both told each other at the beginning of the season it was pretty much 'adapt or die' and we lived by that saying all season long."
Players have to find ways to grow and to make a difference each year. It's about adapting your game, and approach, to get your mind right and find ways to make the team better.
While no one would ever question Kramer's effort on the ice, his off-ice ways are just as valuable to establishing the right atmosphere around the club.
VETERAN PRESENCE
Loud, humorous, helpful, encouraging and determined are just a few of the ways to describe the former Spokane Chiefs' captain.
In short, Kramer is a guy who can help keep a dressing room full of young players on track during a long season – something not lost on club management.
"I am pretty proud of where I am right now. Through the ups-and-downs Craig Heisinger stuck with me, and I had to adjust to a role where at the beginning of the season last year I didn't play for the first seven games.  I immediately told myself if I want to find any success in the game, I'm going to have to find a different way of doing things. And, that just started to be (being) a positive influence and a good person in the locker room. Guys like Brendan Lemieux, Jack Roslovic, Nelson Nogier – the young guys were comfortable to come and speak with me if they had any issues or any problems on or off the ice. So that was a big part of my role was just being a guy in the locker room."
One of the main points Kramer keeps in mind as an influential voice is becoming a good professional, maybe even an NHL player, is about committing to the process. It's a matter of having good daily habits and staying in the present to make the most of every chance to get better.
"It's a group of guys that are on the cusp of accomplishing their ultimate goal and they're one step away from the National Hockey League," says the guy many call 'Krames'. "When someone (gets injured) up top and you know somebody's going up, and you know it's someone else and not your name (being called), we're dealing with young guys just learning how to play the pro game.  You really have to teach them it's a process, you have to trust in the process, you have to be happy with where you are at the time, and this is your team."
BIG PLANS
Kramer says this summer has been a positive one with no distractions and he's relieved to have agreed to a new deal early in free-agency to allow him to concentrate on what matters most to him.  Already well into an off-season that's got him working out as hard as ever, he can't wait for the puck to drop.
Despite the fact the start of his season will be delayed by three games due to a suspension, Kramer's glad the Moose will open in Grand Rapids, Michigan – a night when the Calder Cup champs will celebrating a second title in five years.
"There's another 28 teams that aren't going to see that banner raised and after the season that we had last year, and missing the playoffs the first two years that Manitoba returned, I think it's going to be a positive thing. I think it should light a fire that shows everyone that we should strive for that and nothing short of it. It is baby steps to build a team, but at the end of the day you have to set your goals high."
Spoken like a player who's got 90 per cent of the game figured out.
You know… the mental half.