A steady pace for Kulevich
By: Mitch Peacock | Published: September 1st 2017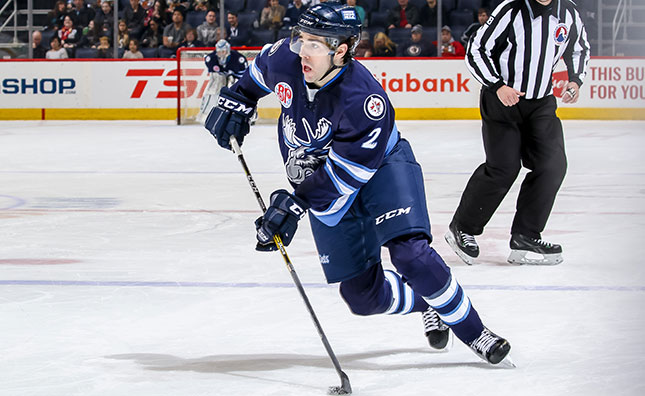 Defenceman Jake Kulevich earned an American Hockey League contract with the Manitoba Moose for the upcoming campaign by making a good impression in an 11-game stint with the club at the end of last season.  It was a whirlwind introduction to pro hockey for the product of Marblehead, Mass. who joined the Jets' AHL affiliate after closing out a four year NCAA career at Colgate University.
At a glance, you might think he's the stereotypical hockey prospect.  Kulevich is big and strong, while featuring mobility and skill.  He also has leadership qualities as evidenced by wearing the "C" at Colgate.
However, Kulevich wasn't on the fast-track to the top from a young age, and when he suffered a major injury at 18… he thought his playing days could be over.
BAD BREAK
It was February 11, 2012 and Jake Kulevich was playing prep school hockey in New England for Berkshire School when a collision knocked him to the ice.
At first the word was a knee injury, but Jake's instincts told him different.
He would soon find out he had a broken femur.  It was a serious blow, coming at a time when a career in hockey seemed a long way off.
"I think back to where I was four or five years ago, and I never thought I'd be in this position," said the 24 year-old in a recent phone interview from the East Coast. "You've just got to really appreciate it. Regarding that injury, I thought, when it happened I thought I was done playing hockey.  That was it. "
There had been U.S. college interest in the under-the-radar prospect before the injury, but would it still be there with news of the fracture?
Thankfully, the answer was yes. Colgate coach Don Vaughn assured Kulevich the university was behind him and would welcome him to the program once he recovered.
The comeback didn't happen overnight though first came three months in a full-leg cast.  From there, three more months of intense rehab before returning to the ice in competition again.  Eventually, Kulevich was back on the blue line as he suited up for the South Shore Kings of the EJHL – and his goal of playing college hockey was back on track.
LATE BLOOMER
Injury or not, Jake Kulevich was not always seen as a pro prospect – even in his own eyes.  Instead, his focus was enjoying the game and playing with his buddies.
That route saw him skate four years with the public school hockey team in his hometown just north of Boston.  That level wasn't part of a traditional pipeline to the pros, but it suited Jake just fine.
"It was a good situation for me, and a good fit. I was playing with my friends. I was still young. I was kind of a late-bloomer. I just thought that was right. I've always just listened to advice from the people that are really close to me like my parents (Tom and Patti). Just done what's, kind of in my heart, just focused on the short term."
In an era where so many seem to be stressed by climbing the ladder from a young age, Kulevich kept it simple and let his passion to play the game lead him from one step to the next.
SEIZING HIS OPPORTUNITY
From public high school, to prep school, to junior, then the NCAA – Jake Kulevich has found a way to keep moving forward.  He continued the upward trend in 2016-17 with a late season ATO with the Moose.
"I was grateful to be able to come in and prove myself," said Kulevich who had no guarantees joining the team would lead to anything beyond the brief audition. "It's just something you work toward your whole life, to make it a job, it's just an incredible opportunity – something you dream about as a kid."
Now, well into an off-season of training and preparing to compete for playing time this fall, Kulevich says the 11-game introduction to the AHL was both a blur and an education.
"It seemed like it all happened quick. The month-and-a-half I was there went by fast. It was just a great experience. Stepping back and reflecting on it, it's just a lot to learn in that month-and-a-half, from the older guys," said Kulevich enthusiastically.
So what did he learn? In general terms, the Colgate University product explains. "How to be a pro, how to conduct yourself like a pro."
Over-and-above what he picked up on the ice, Kulevich feels there's plenty to incorporate when it comes to eating right, getting the proper rest, managing your energy (mentally and physically) to be able to handle the grind of a schedule that's busier than back in college.
Playing on an AHL contract can leave a player feeling second in the pecking order behind players on NHL deals because NHL contracted players are often seen as the focus for parent teams, but Jake isn't worried about the business side of the game.  He's taking the same approach he's had for years.
"Get better, control what I can control. It's a lot of fun. It's a great opportunity to be playing hockey as a living right now so take advantage of it."
As for going from the hockey hotbed of New England to a hockey-loving province in the heart of a hockey-mad country?
"I grew up so passionate about the sport. It was really cool to see. To have the Moose and the Jets play out of the same arena and get great crowds. It just goes to show the passion that's in that city. It's even, I think, a step above what I see back home in terms of hockey but it's great. I grew up in a passionate town, passionate city for sports and it's cool to be a part of an organization that is very similar in that regard."
High praise from a player with an attitude folks in any market can appreciate – love the game, give it your best every day, and keep climbing towards the top.