Lipon Heading to Europe Marks Departure of Franchise Great
By: Daniel Fink | Published: August 18th 2020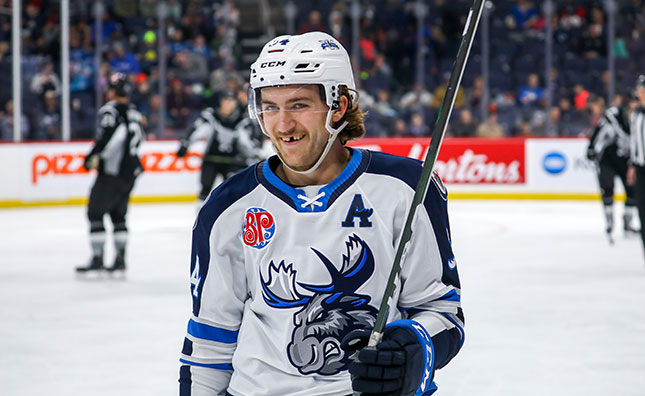 "Crazy 48 hours, hard saying goodbye to everyone. But love you all and excited for the journey ahead to Riga, Latvia"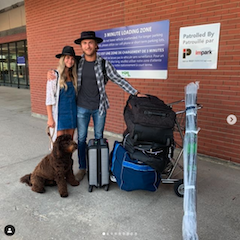 Just like that, JC Lipon's Instagram post featuring the forward with bags packed at the Regina International Airport marked the end of an era for the Manitoba Moose. The official announcement came in the following days from Dinamo Riga of the KHL. The club had agreed on a deal with Lipon to bring the gritty forward across the Atlantic. The move represents a new opportunity for Lipon after playing the first 461 games of his professional career in North America.
Lipon was drafted by the Winnipeg Jets in 2013 following a season that saw the Regina native break out as a 19-year old in the WHL. The winger launched his point total from 65 to 89, in eight less games, and earned a slot on Team Canada's entry at the 2013 World Junior Championship.
Lipon kept the momentum rolling into his first professional season. He posted what would be an AHL career-high 41 points (9G, 32A), along with 136 penalty minutes, as a rookie with the St. John's IceCaps. Lipon scored in his AHL debut as a Brenden Kichton shot ricocheted off the forward in front of the net and into the goal. It was a location Lipon would frequent over the next seven campaigns.
A couple seasons later, Lipon arrived in Winnipeg in more ways than one. With the IceCaps returning to the prairies to become the Manitoba Moose, Lipon quickly cemented himself as a fan favourite. He recorded 30 points (13G, 17A) in just 45 games at the AHL level. Lipon also got his first taste of NHL regular season action.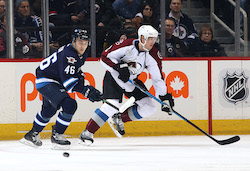 On Jan. 17, 2016, Lipon was recalled by the Winnipeg Jets for the first time. The next day, JC made his NHL debut by playing 7:11 against the Colorado Avalanche at (then) MTS Centre.
"Everyone's dream is to play in the NHL and to play a game it's pretty special. Now I move on to the next step, trying to get into more games," Lipon told the assembled media following his debut. "It was special playing, especially in Winnipeg, the fans are really loud. I got a taste of that in some exhibition games as well. So I kind of knew what to expect. I think I've been ready for this my whole life, so now that it's here it's pretty special."
Lipon went on to record one assist in nine games for the Jets that season.
Of course in these parts Lipon will mostly be remembered for his time in the organization at the AHL level. Fans will look back fondly on his time with the Moose for the bone-crushing hits, a willingness to fire the puck from anywhere and some beautiful goals scored in full flight down the ice.
His list of milestones is a long one. Notably, Lipon sits atop the leaderboard for the franchise's right wingers in games played, goals, assists, points and penalty minutes. He sits a whopping 51 assists and 305 penalty minutes clear of second place in those respective categories.
When it comes to how he stands on the overall lists, let's take a quick look:
Second in penalty minutes
Third in games played
Third in points
Fourth in assists
Fourth in shots
Fifth in goals
Sixth in shorthanded goals
Seventh in game-winning goals
It's an impressive list. Especially when you consider Lipon is the ONLY player to rank fifth or higher across games played, goals, assists, points, shots and penalty minutes. Like clockwork, the Moose could count on right around 30 points and 100 penalty minutes each season from Lipon.
On Nov. 2, 2019, Lipon played his 400th AHL game when the Moose hosted the Grand Rapids Griffins. Lipon struck for two goals, including the game-winner. Prior to the game, the seven-year pro discussed reaching the milestone with the organization.
"It's pretty cool when you can come back year after year and contribute. Especially when you can stay in the same organization for so long and kind of find a home somewhere," said Lipon following the morning skate.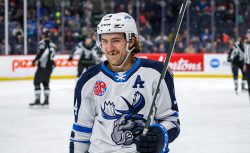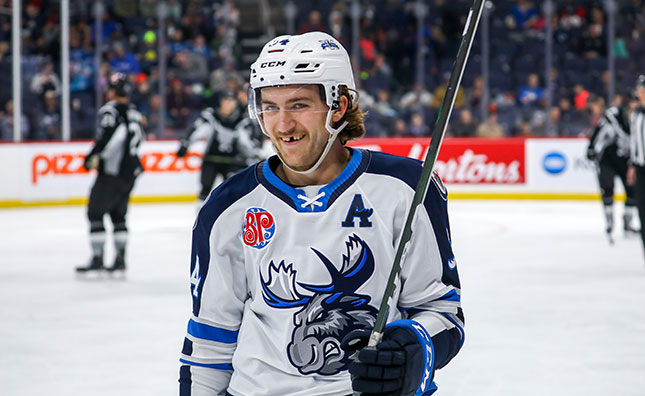 The winger's dry sense of humour shone through when he continued. "It definitely would have been smarter to buy a house here rather than rent," Lipon chuckled. "You never really know in the hockey world, but I've been fortunate enough to have an idea of what's going on somewhat. It's been really nice and, you know, it's made it pretty easy."
JC Lipon may be off to find a new hockey home in Europe, but number 34 in antlers leaves us with a library of good memories for years to come.