MacLeod and Wolff with a big assist
By: Mitch Peacock | Published: June 19th 2017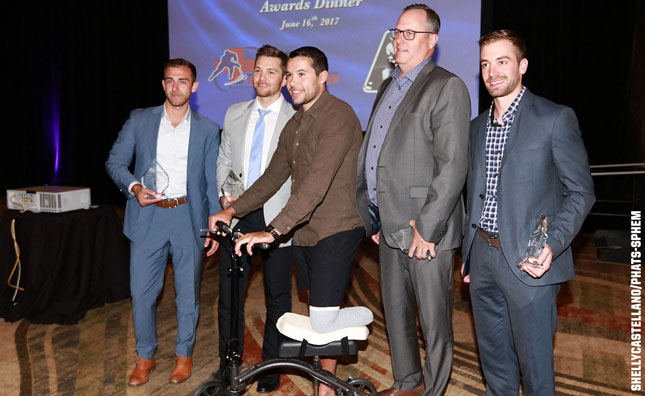 On November 19th, 2016 the Moose were in Tucson, AZ to play the Roadrunners and about to begin the second game of the first-ever two-game set between the teams when everything suddenly stopped.
Roadrunners' captain Craig Cunningham had fallen to the ice and was experiencing a life-threatening cardiac issue.
The game was postponed and Cunningham's amazing story is now well known.
The respected team leader not only survived the danger (though a portion of his left leg was amputated), but is beginning a new career in scouting and player development with the Arizona Coyotes.
What you might not know is Moose Athletic Therapist Scott MacLeod and Strength and Conditioning Coach Jake Wolff were among the trained professionals who responded on the ice that night, playing a part in saving Cunningham's life.
Friday night at the Pro Hockey Athletic Trainers' Society Conference in Phoenix, MacLeod, Wolff, and the Roadrunners' medical duo of Deven Alves and Matt Harder received an award for their efforts.
STRANGER? NO, JUST FRIEND THEY HADN'T MET YET
The AHL season contains a lot of routine – prepare for a game, play a game, get set for the next one.
For MacLeod and Wolff that includes doing what it takes to help Jets' prospects to be healthy and ready to perform, but on that night in November it was a player on the other team they helped.
A total stranger.
Friday night the two staffs not only got the recognition they deserve from their peers, but Scott and Jake finally got to meet Craig Cunningham.
And surprise, surprise – MacLeod says the man called 'Cunny' came as advertised.
Genuine, friendly, and somehow familiar.
"At the end of the day, he's a hockey guy (like we are)," said Scott by phone from Phoenix, before adding with a chuckle. "It took about two-and-a-half seconds to start talking about who's going to be on whose (NHL Expansion Draft) protected lists."
Interestingly, McLeod remembers a phone call after the on-ice emergency from then Roadrunners' General Manager Doug Soetaert.  The conversation offered an optimistic update on the player affectionately known as Cunny.
"I'll be happy when I can actually shake Craig Cunningham's hand," Scott remembers telling Soetaert.
At the time it was about not wanting to get ahead of himself and assume Cunningham was going to make the kind of recovery he has.
Why? Well, because that's how dire the situation was that night on the ice.
DIDN'T LOOK GOOD
Make no mistake about it, Cunningham's survival was certainly not a sure thing – never mind the kind of recovery he made.
"The realistic side of things was he possibly wasn't going to make it and the odds of him (being) where his now, I think, kinda shocked a lot of people, " said Wolff in a recent phone interview. "And from the doctors, to the other specialists he's worked with, a lot of this stuff was relatively – not new – but not done frequently so he's a particularly rare case."
Jake was in not alone in seeing things that way.
"I wish I could lie to you and tell you that I thought everything was going to be fine, but I would say I was probably on the other end of the spectrum," added MacLeod in conversation from his Winnipeg home. "I didn't think things were going to turn out nearly as well as they have."
TRAINING CRITICAL
So what's it like being thrust into a life-and-death situation?
The answers may surprise you.
"During the moment it felt calm," said MacLeod.
A feeling backed up by Wolff's reaction to the same question.
"Reflexes just kick in and you do what you can, and react as you go."
Hard for you and I to believe, but made possible by extensive training.
Both Scott, and Jake, feel very strongly that hours spent learning and practicing at events like the industry conference they attended in Arizona last week made all the difference at crunch time.
STAYING INFORMED
After giving it everything they had that November night, both MacLeod and Wolff traveled home with the Moose.  However, Cunningham was never far from their thoughts.
MacLeod was in regular, almost daily, contact with his colleagues in Tucson through text messages.
As for Wolff, compassion was foremost in his mind too.
"I was more, just, worried for Cunny and his family more than anything," added Jake. "I just wanted the best outcome possible."
BROTHERHOOD
Relieved to see how things worked out for Cunningham, MacLeod is struck by the value of peer-support in managing the emotions of an ordeal like this.
He thinks the bond formed with the Roadrunners' team of Alves and Harder has played a major part in being able to move forward.
"Having somebody else who's lived through it, has the same/similar training and background as I do – we understand each other a little more. We understand some of the dire things that happened on the ice that night."
But while only those on the ice in Tucson back in November know exactly what that experience involved, there's a whole group of trained professionals who share the same line of work.  Their support on Friday in Phoenix was something MacLeod said impacted him on another level.
"To have veterans (in the same line of work) that I look up to, and have gotten to know, stand up and applaud is very humbling."
In a world that puts such a premium on goals, there's little doubt the Moose duo of Scott MacLeod and Jake Wolff were part of a group that came through with an assist that will always be remembered.
Photo: PHATS-SPHEM Twitter