The McGinn Family Buisness
By: Mitch Peacock | Published: September 20th 2018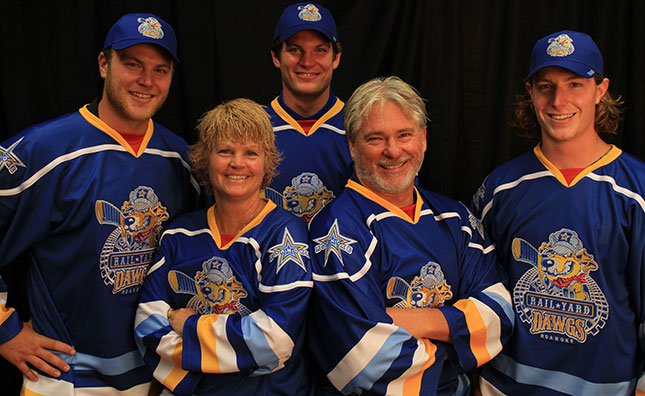 Newly signed Moose winger Tye McGinn has played 400 pro games, including NHL stops in Philadelphia, San Jose, and Arizona. He also has an older brother Jamie, who is a Florida Panther, and a younger brother, Brock, who is a Carolina Hurricane, so it's safe to say he knows a thing or two about the game at its highest levels.
That knowledge made it easy for him to say 'yes' when the Jets' American Hockey League team approached him about signing for the season ahead.
"It's a no-brainer.  Talking with people around the league, you hear nothing but good things about this organization.  It just seemed like a good fit for me and my family," said the Fergus, Ont. native after a recent skate at Bell MTS Iceplex. "Been here for a couple days now, and nothing but good things to say so far."
McGinn comes to town off of a summer to remember.  The former fourth round pick of the Flyers turned 28 in July, and married long-time girlfriend Mascha before the couple packed their bags for Winnipeg.
For the veteran winger his occupation is a passion.
"(It's) just the love of the game. I love the game of hockey. I can't see myself doing anything else.  (The idea is) being a player as long as I can, and then setting myself up for the future after to be on the business side and see how far we can take this in pro hockey."
Ah yes, the business side.
Have you heard? Tye McGinn is not just a hard-nosed two-way winger.  He's also part of the ownership group of a professional hockey team.
PRO PLAYER AND TEAM OWNER
Yes, the McGinn family's bond with hockey extends from the boys concentrating on playing the game at an elite level, to them teaming up – along with father Bob – to operate a team in the Southern Professional League (SPHL).
The Roanoke (Virginia) Rail Yard Dawgs are going into their third season of operation, and have high hopes after making their first playoff appearance last spring.
"From the first year, our fans were awesome. Last year even better, and this year we're on pace to have even more fans," said Tye with a big smile. "So it's been an awesome start. Awesome progress throughout the years."
Tye and his partners have been working steadily to help grow the sport in an area of Virginia that has been home to a number of minor pro teams over the years. It's a project involving more than just backing the Rail Yard Dawgs.  The McGinns worked to open a second arena in the community and doubled registration in local minor hockey programs.
It's a learning experience, and a positive one, for a player who understands he won't be able to earn his living in uniform forever.
"It opens up your eyes to so many different things. As a player your mindset is 'just go out there and play'. Then you kind of worry about little things that you shouldn't be worried about, just because on the business side you need to have those little (things) – like a sticker on a helmet or something – something you don't think about. It opens up your eyes to different things that I never would have known about before we started this adventure. So it's a lot of fun."
Now if you're reading this and wondering if Tye's executive role is a distraction from his "day job", he promises it is not.  McGinn says his dad does a great job of keeping up on the day-to-day affairs of the team, and is always available if the boys need updates.
"My focus is playing.  So if I have questions about (the SPHL team), I'll bring it up to him, but he won't bring it up to me.  So that's kind of the method that we have going. That's how I wanted it, and that's how he wants it. He wants us to focus on our hockey. He goes down there once-a-month throughout the hockey season just to make sure everything's going well."
PATH TO MANITOBA
Tye comes to the Moose after a unique season, one that included a career-first.
"That was our first time being traded in-season. There's a lot to take (in), going to a different city and basically a whole different side of the country to be honest. And, east coast to west coast there was a lot to take in," said McGinn of moving from Syracuse to Tucson after his rights were sent from Tampa to Arizona. "But, you know, I had a lot of fun – got to meet a lot of good people – we had a very good team in Tucson there, so it was a lot of fun being at the rink every day. It was an all-around good experience."
The big winger skated in 55 AHL games, racking up 23 points (10G, 13A) as the follow up to one of his most memorable pro experiences.
After an injury cost Tye much of the 2016-17 season in Syracuse, he returned to the Crunch lineup with about 20 games to go in the regular schedule.  He was a fixture during the team's run to the Calder Cup Final against Grand Rapids.
"Anybody that says it's an easy path to get to the Calder Cup, I'd like to hear their story. It's a battle the whole way. It's a lot of fun. The further you go, the more competitive it gets, and that's when you learn a lot about yourself and the guys that are sitting in the room with you. That was a great team, I'd go to battle with them any day, but you have to move on.  I'm looking forward to doing that with these guys in Manitoba."
Experience, perspective, and ambition – a few of the qualities Tye McGinn has unpacked in Manitoba for the latest stop in a life in the game he loves.
Photos: Gregg Forwerck/Getty Images, Roanoke Rail Yard Dawgs