Mid-Season Check-In
By: Mitch Peacock | Published: January 20th 2018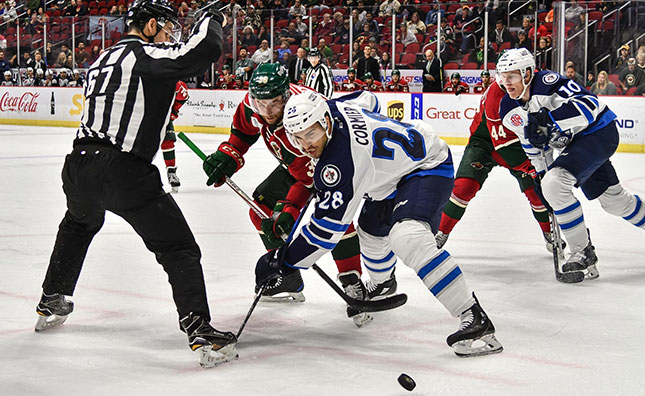 The world of pro sports is very much a "what have you done for me lately" place.
By the time you stop to pat yourself of the back for a great job, the next challenge is ahead, and you might just get steamrolled if you're not paying attention.  So, while the Manitoba Moose are pleased with what they've been able to accomplish in a historic first half, they're fully aware of what's ahead.
Before the team gets too far into the back half of their schedule, let's take a moment for both what's happened and what's ahead.
RECORDS FALL
The first two seasons of the Moose "2.0" era featured young lineups filled with prospects learning on the job.  While that led to plenty of individual growth, wins were sometimes hard to come by.
This season, a blend of those improving pros, an injection of quality players new to the AHL, and rock-solid veteran leadership have taken things to new heights.
A sweep of the Marlies in Toronto in mid-December lifted the team into first overall in the league's standings.  A victory against San Antonio just before Christmas capped a club record 16-game run with a point, and franchise-best 13th consecutive contest with a point on home ice.
Those impressive notes don't shine a light on a nine-game winning streak that took care of the second half of November and spilled into December. Nor does it reveal a team goal-difference that hit a staggering plus-54 at mid-campaign.
HITTING STRIDE
Manitoba Captain Patrice Cormier has his finger on the pulse of the group and says the team pushed itself to be consistently better after dropping three straight as November arrived.  From there came a big win in Stockton against an impressive Flames' affiliate.
The potential of the club was just starting to show, and it starts from the net out according to Cormier.
"Our goalies, our d-corps, have been great. And obviously without those guys we wouldn't be (where we are)," said the eight-year pro after a recent practice. "It's easy to score goals. Every team scores three or four. But, it's to not give up three or four."
The statistics back up Cormier's position.  Manitoba has been near the top of the heap in goals-against for months with their average just above two-per-game.
Of course, part of defending well is getting the puck and playing at the offensive end of the rink – something the Moose have done impressively.
"I think we have a fast-paced brand of hockey, which is fun to watch I'm sure," said Head Coach Pascal Vincent in recent conversation at Bell MTS Iceplex."But, it's also very efficient."
How efficient?
Well, besides that stingy goals-against average, Manitoba has used impressive transition play to form an attack that has produced nearly four goals-per-game, tops in the league at the halfway mark.
SECOND HALF, A NEW CHALLENGE
Officially the first half came to an end with the Moose posting a sterling 25-8-3-2 mark, and a league-best and franchise record .724 points percentage.
Impressive. Outstanding. And, history.
Literally.
As in something to be proud of, but not what matters today.
For Cormier, finding a way to keep the wins coming will have a lot to do with the mindset of the group.
"Games are going to be tight.  I think we have to stay patient. It's not going to be the same as the start of the year for sure. I think we're trying to build that in guys' heads, 'cause it's not going to be easy. Teams are, kind of, eying us. Looking at the standings. Looking where we are and coming in to our rink and thinking – okay, we gotta be ready – they're bringing their "A" game."
With that in mind, Coach Vincent has reason to believe there are plenty of positive days ahead, starting with the bond the team has formed.
"The team chemistry is outstanding. Those guys really want to play for the Moose, for the Jets'/True North organization and it's been amazingly good for us (this season) on the ice, off the ice, in the community."
On top of the drive for wins and some valuable playoff experience, there might be something viewed as bigger unfolding.
"I think we're building something special here," said the second-year coach of the Moose.  "When I say that I need to be careful, it's not about winning, but we're helping young people to develop their skills on the ice and off the ice. They're adjusting well to what we're looking for. Or, they understand the values that we're trying to translate and it's been a really good season so far."
Very good, with the promise of more memorable moments to come.