Moose Celebrate Past and Present in Laval
By: Anthony Fusco | Published: February 14th 2023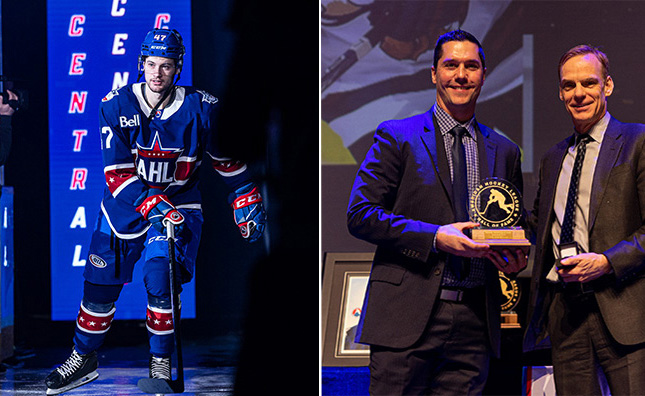 After a two-year hiatus due to the pandemic, the American Hockey League was finally able to hold its annual AHL All-Star Classic from February 5-6 in Laval, Que. The event is a chance for the league to come together, showcase an incredible amount of talent and honour those who left a lasting impact on the league. For the Manitoba Moose organization, the importance of the event couldn't be overstated.
The organization had much to celebrate over the weekend. That included watching defenceman Declan Chisholm, the team's All-Star selection, proudly represent both himself and the Moose with a dazzling display on the ice. Additionally, a pair of former Moose skaters were honoured off the ice.  Current assistant coach and former player, Nolan Baumgartner, was inducted into the AHL Hall of Fame. Meanwhile, former Moose captain Mike Keane was selected to serve as one of two honorary captains for the weekend's festivities.
"I think it was just a great experience, and to represent Manitoba is such an honour," said Chisholm standing in front of the AHL's backdrop after the event wrapped. "It's definitely something I'm going to remember forever. I had a blast and lots of fun out there."
https://twitter.com/ManitobaMoose/status/1622805358908702721
Chisholm, a fifth round pick of the Winnipeg Jets in 2018, was participated in his first AHL All-Star Classic after registering 31 points (4G, 27A) in 42 games prior to the break. The 31 points already represent a new career high for the defenceman, who currently sits second on the Moose in scoring. Chisholm also set new career highs with three power play tallies and two game-winning goals. Following the Skills Competition and All-Star Challenge, the defender gained a newfound respect for his fellow AHL skaters.
"It was a good taste. All those guys are so good," noted the Bowmanville, Ont. product. "The skill and speed out there is next level. It was just fun to be out there with everyone, make plays and have a relaxed game of three-on-three with no pressure."
Chisholm was also quick to heap praise on his Moose teammates and attribute his success this season to them.
"I think my confidence just keeps on growing throughout my experiences in the AHL. I wouldn't be here if it wasn't for my teammates," expressed Chisholm.  "I'm setting up guys, so a lot of guys are putting the puck in the net. Or guys are moving the puck and creating space. A lot of kudos to my teammates, because a lot of my development has been their part too. They're pushing my pace in practice and skills. I'm just thankful for those guys and will be looking to continue to grow my confidence that way."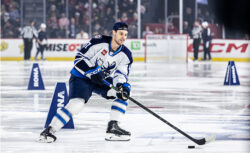 As Chisholm continues his development path, he doesn't need to look much further than down the Moose bench for inspiration and mentorship. One of his coaches was one of the best defencemen to suit up for the organization.
Nolan Baumgartner played for six different teams during his AHL career, highlighted by parts of seven seasons with the Moose. The Calgary, Alta. native's AHL journey began in 1996 with the Portland Pirates. He went on to appear in 878 AHL games, ranking sixth all-time among the league's defenders. Baumgartner racked up 390 points to rank 13th all-time among AHL defencemen. Not bad for the former 10th overall pick who arrived in Portland not knowing where his hockey journey would go.
"It brought me a 16-year pro hockey career and 878 games in the American League," said Baumgartner during his induction speech. "I'll tell you here today that I wouldn't trade it in for the world. The lessons, the knowledge, and the life experiences that I gained are a big part of who I am today as a person. Playing in the AHL taught me perseverance, humility and leadership on and off the ice."
The defenceman also had a few special words Mike Keane, who was also honoured in the ceremony that day. The two were teammates with the Moose from 2007 to 2010.  Keane spent five years as captain of the Moose and his number 12 now hangs in the rafters of Canada Life Centre.
"To Mike Keane and family. Your mentorship, and more importantly, your friendship has meant the world for me and my family. Thank you for always being a great teammate, friend and for always being there for us. We love you guys."
https://twitter.com/ManitobaMoose/status/1622661652406738944
Craig Heisinger, who has served as Manitoba's general manager since 2002, noted as part of his video tribute that Baumgartner was "the epitome of what it takes to be a Manitoba Moose player."
Baumgartner in turn thanked Heisinger later in his speech.
"Craig Heisinger, thank you for always having my back and going to bat for me. Throughout my career, that never went unnoticed. Thank you for giving me the opportunity to play for the Manitoba Moose and now coach for the organization and to be able to pass on the knowledge and experience that I've learned from playing."
Baumgartner's impact was previously acknowledged by the Moose in 2020. He was one of two defenders included in Manitoba's 20th Season All-Time Team. Baumgartner ranks third all-time on the Moose with 144 assists, sixth with 385 games played and his 185 points rank eighth.
"I'll leave you with this today," Baumgartner said in closing. "Everything I have in my life now, I not only owe to the game of hockey, but also to the American Hockey League and I will be forever grateful."
Chisholm, who was in attendance for Baumgartner's speech, was extremely happy for his coach.
"To see that was pretty cool," Chisholm observed. "He's such a great coach, such a personable guy. I'm so happy for him and his family. He almost had me crying on stage watching him. It was really cool."
Chisholm and Baumgartner are back to the Moose and hope to use their experiences in Laval to continue propelling the squad toward a berth in the 2023 Calder Cup Playoffs.