Moose look to grow from year one lessons
By: CK Nakhwal | Published: May 10th 2016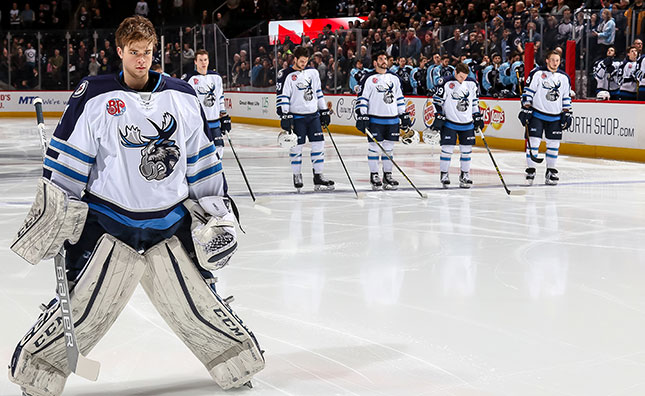 Some of life's best lessons are learned by getting knocked down and getting back up to fight again. Heck, you could say that was a guiding philosophy behind the Winnipeg Jets' approach to the Manitoba Moose this past season.
Before the Moose ever played a game in the 2.0 era, Jets' management knew they had an abundance of young talent in need of a high-level place to learn on the job and they were prepared to provide that place for those deemed ready for the American Hockey League.
However, these days there's confidence things will be better as those prospects tune up for another year. This belief is built upon an on-ice growth and an improved environment where that development will take place.
YOUTHFUL BUNCH FOUND ITS WAY
Jets' Assistant General Manager (and Moose GM) Craig Heisinger is unflinching in his commitment to the draft-and development path to building a perennial playoff team at the NHL level, and with a wave of young Jets' picks ready to go pro he knew the 2015-16 season wasn't going to be easy but trusted it would serve a purpose.
The veteran hockey man is also a no-nonsense guy, so when asked to reflect on Manitoba's 28th place finish in year one of the return of the AHL to Winnipeg, he didn't mince words.
"Was everything we did right? No, probably not. But, we learned a lot from our experience. You want development to include winning and we didn't do enough of that, and that's on us for the most part, but we needed to play the young players and learn from the experience and see in the long-term what changes we could make just to be a bit more successful but to continue to have the young players develop."
PART OF A PROCESS
Despite their struggles to earn wins over the first half of the season, the Moose saw their first and second year pros improve as the season went along and the team went 14-15-1-1 to finish the schedule seventh in the Central Division ahead of the last-place Iowa Wild (and the Springfield Falcons in the overall standings).
Along with things getting better for the Jets' AHL affiliate, the growth of the players showed itself in helping the Jets deal with a rash of injuries.
Connor Hellebuyck impressed in a stint with the big club that started way back in November, and Joel Armia and Nic Petan contributed to the parent team after spells with the Moose too.
However when it comes to players emerging through experience on the farm, the list gets even longer with JC Lipon, Josh Morrissey, Scott Kosmachuk, and Chase De Leo going up to make their NHL debuts and rugged Julian Melchiori impressing later on as well.
For Heisinger, all that new blood making a difference is reason to believe the plan is working, if only in its early stages.
"Lots of first year guys got their first games, lots of second year guys got their first games and lots of guys that you wondered how they'd do went up and did very, very well. And, the fact they did well bodes well for them and it bodes well for us. But, it means when they come back to the American League we know you can do those things – don't take your foot off the gas."
And those that did return did not let up, only paving the way for a competitive training camp in the fall.
OFF-ICE GROWTH A KEY TOO
And speaking of the fall, the Jets' are excited about helping their prospects reach their potential by providing them with improved supports.
This past season was a tricky one for everyone from the players, to equipment/medical staff, and coaches because so much of the time was spent trying to establish routines for practice sessions and game days while working out of a temporary dressing room at the Iceplex and sharing MTS Centre with the Jets.
Something as simple as a game day now often involved a morning skate at MTS Iceplex followed by equipment and medical staff quickly packing and moving downtown to get ready for game night.
With structure and routine so important to all associated with the club there was a lot to deal with.
This season the Moose (and Jets) will have a high-end training home at Iceplex thanks to nearly $8 million in work being done to provide them with the necessities, and the entire organization will be able to draw on best practices learned this past season when it comes to time and equipment management.
"That's where we start ahead of the game going into year two … the trainers having their feet under them. Being re-located for a full year, everything having a routine cause we started the season with no routine – just trying to find our way and routine is a very important commodity," said Heisinger.
And, the GM thinks the boys in uniform deserve some credit for making it work after the move from St. John's.
"I think the players deserve a lot of credit for making things work as well as it did this year. Things weren't ideal from a lot of standpoints, but they never complained, they just put their heads down and they worked…certainly going into next year, between the staff and the facilities, we'll be ahead of the curve. Where the player development is, that's still a work in progress."
KNOWLEDGABLE FANS
While prospect development and winning are the delicate balance the Jets' are working on, it seems one area they can count on is championship-calibre fan support.
After finishing down the standings, but in the top 10 in American Hockey League attendance, Heisinger was grateful for support and has a theory about their loyalty despite the on-ice ups and downs.
"I think where you had to be concerned was the lack of success the team was having and what impact that would have on the fan base. Everybody wants a winning team. It really struck me that the fans understood what we were trying to accomplish and I know everybody's tired of hearing the draft and develop model but it is really starting to pay dividends."
Which only means more to look forward to as the next wave grows and depth becomes a true hallmark of the organization.