2019-20 Moose Notes
By: Daniel Fink | Published: May 14th 2020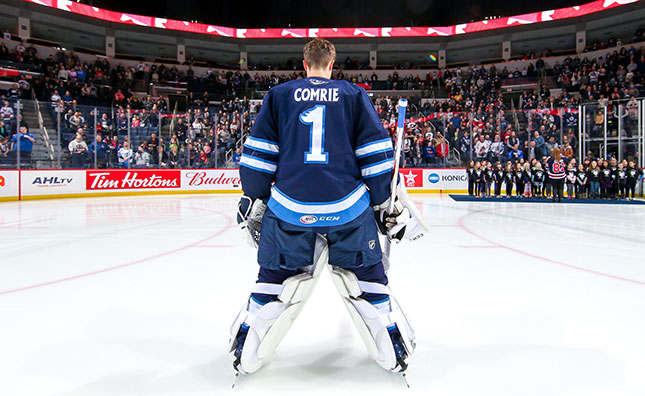 On Monday, May 11, the AHL announced the league cancelled the remainder of the 2019-20 season, as well as the Calder Cup Playoffs. I jumped into the stats pages to gather up some final notes on the shortened 20th Season of the Manitoba Moose operating in Winnipeg.
The Moose finished with a 27-33-1-0 record through 61 games for ta 0.451 points percentage. They ranked eighth in the Central Division, but had as many wins as fourth placed Chicago.
—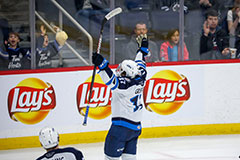 A total of 40 players donned antlers this season. 14 spent time on both the Moose and Winnipeg Jets rosters while 10 appeared in games for both clubs.
Working from the AHL to the ECHL, five players appeared in games with both the Jacksonville Icemen and Moose.
—
Seth Griffith led the Moose in scoring for the second straight season. He posted 41 points (21G, 20A) in 58 games (0.71 pt/g). It was his fifth consecutive season recording at least 40 points and his third-career 20-goal season. Griffith also topped the Moose goal column.
Griffith is just the third player in the team's history to lead the Moose in points in two consecutive seasons. Griffith has a total of 98 points (37G, 61A) in 127 games since coming to Manitoba. The last time a player led the Moose in scoring for two straight seasons was back in 2002-03 and 2003-04 when Brandon Reid paced the club with 54 and 58 points respectively. The other player to lead the Moose in consecutive campaigns was Bill Bowler in the 1998-99 and 1999-00 seasons with 93 and 62 points.
—
In a prime example of just how dominant he was before heading to the Jets, Jansen Harkins paced the Moose in assists. He recorded 24 helpers in just 30 games. Harkins' brilliant start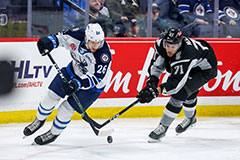 to the season saw him record 31 points (7G, 24A) in 30 games. That mark actually matched his 70-game career high in points from the previous season. The North Vancouver, B.C. native was recalled by the Winnipeg Jets in December and only returned to the AHL to participate in the AHL All-Star Classic.
—
Given some more time, rookie defender Leon Gawanke would likely have been able to chase Harkins down, sitting at 22 assists on the campaign. That mark ranked ninth among the AHL's rookie defencemen. Gawanke wrapped up the season with 26 points (4G, 22A) in 48 games (0.54 pt/g). Gawanke ranked eighth among the league's rookie defenders in points. He also led Moose rookies and defencemen in the points column. The Berlin, Ger. product tallied eight points (3G, 5A) in the final 10 games of the season.
—
JC Lipon posted his seventh consecutive season of recorded at least 25 points and 85 PIMs. Just one of those seasons saw Lipon earn under 100 minutes in the box. He posted 31 points (13G, 18A) in 61 games. Lipon led the Moose with three shorthanded points (1G, 2A).
It was a season of milestones for Lipon who surged up multiple Moose all-time leaderboards. Most notably, the Regina, Sask. product moved into third on the team's points list and sits 29 points back of second slot. He also jumped into third on the games played list, into a tie with Lee Goren for fifth on the goals tally and up to second in penalty minutes.
—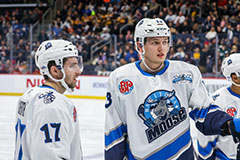 It's important to note Kristian Vesalainen was technically not an AHL rookie this season due to his prior professional play in Europe. However, in his first full AHL campaign, the Jets firstrounder posted 30 points (12G, 18A) in 60 games. He tied for fourth on the Moose in goals and led the team with 14 power play points (6G, 8A).
—
David Gustafsson needed a little bit to get rolling offensively in his 13 AHL games, but he took off after scoring his first goal in the league on Feb. 19. Gustafsson racked up seven points (2G, 5A) in the last seven games and finished the season on a four-game point streak.
—
After missing the first 2.5 months of the season, Kristian Reichel's 12 goals tied with Vesalainen for fourth on the team. With all 12 of those tallies at even strength he was second on the club after Griffith. Reichel tied for the team lead in points since Jan. 1 with defenceman Leon Gawanke. Reichel led the team with nine goals during that 26-game span.
—
2019-20 was quite the season for C.J. Suess who, after missing the bulk of the 2018-19 campaign, made his NHL debut on Nov. 1 at San Jose. He also finished second on the team with 14 goals and in a three-way tie (Griffith and Vesalainen) for the team lead with six power play goals.
—
Mikhail Berdin made 42 appearances in his first full AHL campaign. He finished second among rookie goalies with 20 wins. Berdin was ridiculous in November, picking up 10 wins, 2 SO along with a 2.27 goals-against average and .931 SV%.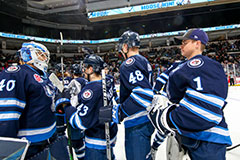 When it came to stacking up against his rookie peers, Berdin finished seventh with a 2.89 goals-against average and third with a .910 save percentage. He also appeared in more games and played more minutes than any other rookie netminder.
—
Eric Comrie had a trying season. He spent time on the rosters of three NHL clubs and two AHL teams, including the Moose. Once he returned to Manitoba, Comrie held the form that earned him the team's 2018-19 MVP award. He posted some career numbers with a 2.51 GAA and .918 SV% in his 16 games with the Moose. He also crossed the 200-game plateau in the AHL for his career.
—
There's a lot more to break down from the 2019-20 season. Be sure to keep an eye out for By The Numbers on moosehockey.com and Moose social media channels. The weekly episodes continue to delve into the stats posted by Moose players this season.