Moose Success Tied to Development
By: Anthony Fusco | Published: May 26th 2022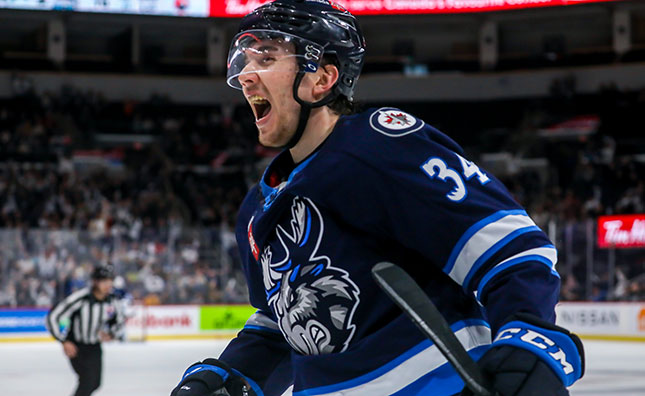 The American Hockey League serves as the primary developmental league for the National Hockey League. When an organization has success at the NHL level, in most cases, it can be directly attributed to a strong development path in the AHL. Prospects learn the game and are put in all manner of situations in order to prepare them to eventually make the jump to the big club full time.
Moose Head Coach Mark Morrison knows this better than most. The bench boss has spent his career coaching in the NHL, AHL and ECHL and is aware of how to grow and groom players to make an impact at the next level.
"A lot of this is player development here and I thought we did a good job with pressing them to win," stated Morrison in his final media availability of the season. "We had 41 wins and played a lot of hard hockey games. I thought a lot of players improved, most of them got better."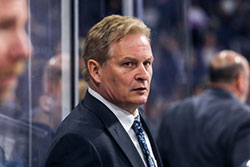 One player Morrison spoke about was Ville Heinola. The Finnish defenceman and first round pick of the Winnipeg Jets elevated his game for the playoffs while recording five points (1G, 4A) through five games.
"Ville Heinola, for me, had an excellent playoffs," said the coach. "He stepped up and played hockey the way he's going to need to play hockey to be in the NHL.
The Jets prospect was similarly happy with how he finished the campaign.
"When I got called up and then sent down, I just tried to find the rhythm again," Heinola explained at his end of season availability. "I feel like when I played down here, I was pretty happy how I played here. Specifically, the rest of the year. I feel like my game went up all the time. I'm pretty confident where my game is right now."
The Moose blue line was a strength all season long for the club. Despite fighting through multiple injuries, Dylan Samberg was an integral part of the defence and was able to showcase his play during 15 games with the Jets and 32 games in antlers.
"I think he's real close," Morrison remarked. "He played some great hockey for us. He had a couple injuries and some setbacks, but he crawled his way back to the top of his game and I thought when he got called up, he played great."
While it wasn't the ideal season for Samberg, the Hermantown, Minn. product was able to look on the bright side of what he went through.
"Personally, it was a tough year with injuries and whatnot," said Samberg. "I'm happy with how I battled back into things was able to get a few games up in the NHL with the Jets. So I'll look on the positive side of things. Wish we could have done better in the playoffs, but it is what it is now."
Another member of the Moose defence corps to be singled out for praise was Leon Gawanke. Though the defender didn't make his NHL debut this season, Morrison believes that the Berlin, Germany product is on the right track.
"(Gawanke) played well for us; he played some real good hockey. Him and (Declan) Chisholm were excellent paired together. Sometimes maybe Leon got in the back of that group (of callups) a little bit and he kept battling through it. I have a lot of time for Leon. He had a great season for us. He improved, and for me, he's right there as well with the rest of the group."
Gawanke was extremely productive in this third season in antlers. The defenceman racked up a career-high 36 points (10G, 26A) which led the Moose defence corps.  Gawanke also received his first taste of AHL playoff action and tallied four points (1G, 3A) in five games. The blue liner parlayed his strong AHL season into his second-career appearance at the IIHF World Championship with Germany.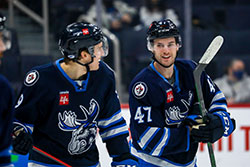 Gawanke has is eyes on the NHL. The defender is committed to continuing his momentum into a big summer ahead and push for a roster spot in the fall.
"I had a great summer last year, but I think I can even do more to be better and stronger and be in better condition when I come here," explained Gawanke. "The way I played this year showed me that I really believe that I can play at that next level. Obviously, there's still a lot of work, but with my trainer in the summer, I'm going to be able to do that next step. I'm positive I can play in the NHL soon."
Declan Chisholm was another key offensive weapon for the Moose on the blue line this season. The Bowmanville, Ont. product tallied 30 points (9G, 21A) in 53 games. He also raised his game in the post-season and led all skaters in Manitoba's series against Milwaukee with seven points (2G, 5A) and a plus-six rating in five games. Much of the success for Chisholm and Gawanke comes from how well the duo played together.
"Since the start, we found each other. It was clicking all year, it was awesome," said Gawanke. "In playoffs, we were both at the peak of our games, I think. It was just really fun. We get along well on and off the ice and it helps that we've played together for a couple years now. We've been to a lot of training camps together, a lot of dev camps and a lot of time on and off the ice. I think over the year that it built a lot of chemistry, I know where he is, he knows where I am. He finds me, I find him. It worked out really well for both of us this year."
Defenceman Johnathan Kovacevic, who got his first taste of NHL action in four games with the Jets this season, sums up exactly what made this Moose defence group so special.
"I'm in a spot where I get to watch guys like Ville (Heinola), Chis (Declan Chisholm), Leon (Gawanke) and Sammy (Dylan Samberg) and take little parts of their game and include it into my game," Kovacevic laid out following the season. "I'm sure whether they're thinking about it or not, they're doing the same thing in their game. We all get to learn from each other and as you can see, we're all getting better together."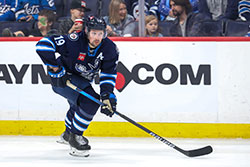 In the forward ranks, the Moose saw Jets second rounder David Gustafsson prove to be an invaluable part of the club once again. Gustafsson set new career highs with a balanced 15 goals and 15 assists while continuing to build on the powerful elements of his game.
The Swedish centre was joined late in the season and playoffs by another exciting prospect in Morgan Barron. The recently acquired forward rolled through the playoffs, scoring goals in each of the final four games of the series. Barron's strong series followed 14 games in the NHL with the Jets where he tallied four points (2G, 2A).
"It was definitely different; you could feel that" said Gustafsson at his final media availability. "I feel like as a young team, a pretty inexperienced team, that we learned something from this playoff series. I think I learned a lot that I can take with me and hopefully use in another playoff run."
Despite the tough loss, the Moose forward has an eye on the future and is planning on using the series as a learning opportunity to help propel his career to the next level.
"It still hurts to be honest," remarked Gustafsson. "I felt that we could have had a way better destiny this season. Slowly you come together and think about the good things you did this season and think about the good things coming ahead for next season and all the seasons after that."
Fans also got a small taste of the future when prospects Henri Nikkanen and Daniel Torgersson made their AHL debuts late in the season.
Nikkanen made his debut on April 24 in Milwaukee against the Admirals. The Finnish forward also suited up for his first AHL playoff game when the Moose met the Admirals in the Central Division Semifinals. Torgersson made his debut the same regular season game and played in the final four contests of the season for the Moose. The Swedish forward found the back of the net for his first AHL goal on April 26 against the Texas Stars and went on to record a trio of points (2G, 1A) in four contests and finish the regular season on a three-game point streak. The value of that little preview wasn't lost on the team's head coach.
"I think it's huge for them to understand what this league is all about now," commented Morrison. "They can go home and prepare for it. They can train knowing that things happen a little bit quicker in this league than it did from where they came from. The rink is smaller, tighter, quick decisions. I think that was excellent for them to have the opportunity to understand what they have to work for in the summertime."
Development is king in the AHL. After a successful season, Morrison and his staff will continue to prepare the next wave of antlered ones so that they may one day earn their wings and learn to fly at the highest level.