Nault Hopes to Inspire Through Mental Health Discussion
By: Manitoba Moose Staff | Published: June 26th 2021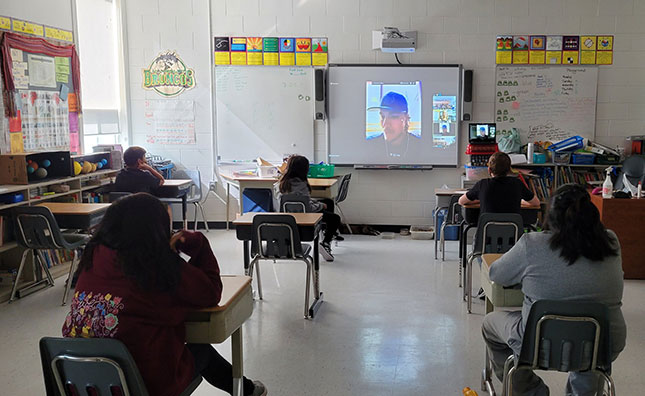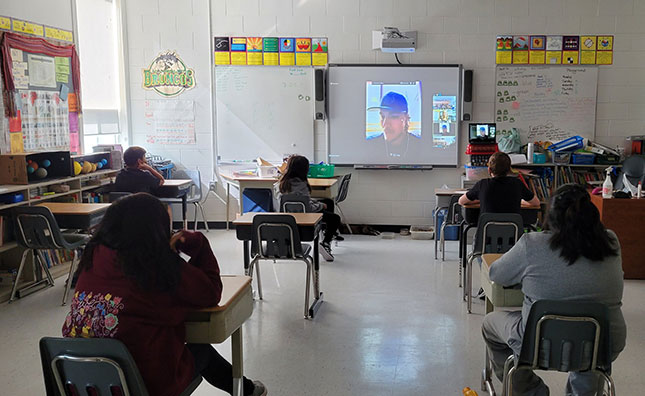 By Jason Friesen
Who better to bring the conversation around mental health to life than community role models?
Project 11 has been operating on that notion since the program began by having Winnipeg Jets and Manitoba Moose players join them for in-person classroom visits. Since the onset of the pandemic, those have transitioned into virtual visits, but the practice is just as pertinent as the program has sought to have people whom students look up to discuss their own mental health.
One of those most recent virtual visits was to the Grade 5/6 class at Robert Smith School in Selkirk on May 27. Teacher Katherine Nault was not only able to have a Manitoba Moose player join her classroom on a video call, but that Moose forward also happened to be her son, Kamerin Nault.
Kamerin, who grew up in Winnipeg and played for both the Winnipeg Blues and University of Manitoba Bisons, served as a perfect role model for students to talk to. Not only is he a professional hockey player that kids look up to, but he also grew up in the same place as the kids on the call and could understand their context.
Students didn't waste the opportunity to interact with Kamerin and posed many questions to him while on the call. Some of those questions focused on how mental health plays out in his role as a hockey player, and one in particular focused on travelling for hockey and being away from family so often.
"Being on the road can be really challenging, especially in a year like we had this year," said Kamerin. "We weren't really allowed to see anybody, and we were pretty isolated a lot of the time, so the mental health aspect of that came in pretty hard, especially for me. When confidence or things like that weren't going my way this year, I felt isolated and really had to rely on something like a Zoom call with family and friends to get me through some of those things on the road."
Another student asked how not being able to play impacts the mental health of athletes.
"Not being in the lineup can really affect your mental health, especially when you're healthy," noted Kamerin. "There are good things that come out of that, and you always want to be a good teammate. You always want to be there for your teammates, and if someone is in the lineup over you, you want to be sure you give them the confidence to go out there and do well. That way, when it's your chance to get back in, they do the same to you. You don't want to be a teammate who gets upset and brings bad energy into the locker room if you're not playing. You want to be there for your team, because at the end of the day, if the team wins, everyone wins."
Other questions got even more personal, such as one student asking Kamerin if he ever gets feelings of unworthiness.
"Absolutely," Kamerin answered honestly. "I feel like there are times in a competitive sport where everyone wants that job to play. If you're not in the lineup, you sometimes wonder if you're good enough to be there. Do others think I'm good enough to be there? There are definitely moments when you feel like you're not worthy. That's a place that I've really learned to rely on friends who are in the game, and my family."
Other students asked if Kamerin has ever felt like simply running away from any stresses and problems he faced.
"There were definitely times going through my teenage years and the stress of when I first played junior hockey where I struggled to cope with not being in the lineup or not doing as well as I thought I should be. Your personal life gets in the way too. So, when you blend those things together, there are times when the stress gets really high and there were times that I really felt like running away from it all. I was able to cope with it in different ways, even taking my dog out for a walk for a couple hours or having some time alone. I'm grateful for the friends I have now and my teammates, my parents and my girlfriend who are there for me."
For Project 11 and its many students, the input and shared experiences of hockey players like Kamerin Nault are invaluable. Though not every kid may play hockey, each one can find their own way of connecting to the messages that players bring.
"We can't overstate the impact players from the Moose and Jets make on our students through their visits," said Suzi Friesen, Director of Educational Programs for Project 11. "Hockey is obviously a big part of their life experience, and so many of their stories come from playing competitive sports, but students quickly identify how those lessons can be applied to their own lives. The feelings associated with being a healthy scratch for a hockey team can easily be related to struggling to fit in at school, and the pressure to perform on the ice is translatable to the pressure students feel to excel in their classes."
Aside from giving students tips on how to best handle their mental health, the visits really drive home the message that whatever stress or anxiety students may be feeling, they are not the only ones who have felt that way and they are not alone. If their hockey player role models need help from others with the problems they face, the students also shouldn't hesitate to find help when they need it.
Though Kamerin wasn't shy to share his experiences on the call with the students from Robert Smith School, he acknowledges that it took him a while to get there.
"You go through hurdles in life and learning how to cope with that was something that took me a little while," he noted. "I was someone who was pretty introverted and would keep things inside, but now in the last few years I've really learned to talk about it be more open with more people than even just my family. I've brought in close friends to talk about it, and it's really helped me avoid those pitfalls a lot more."
He, along with the whole Project 11 team, hope that students realize that the sooner they open themselves up to that conversation, the better.