Nogier Shows Strength Through Adversity
By: CK Nakhwal | Published: August 30th 2018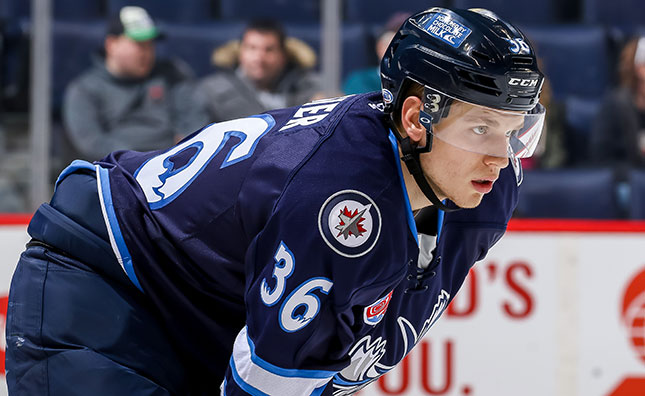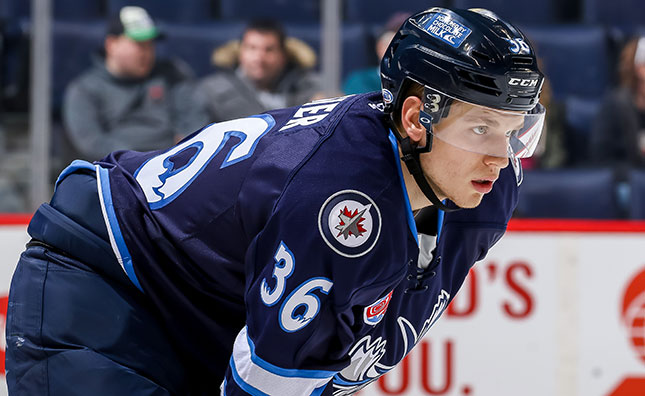 Nelson Nogier knew what he was in for.  After all, he'd been through it before...  The same awful pain had hit him a few years prior, back in his junior hockey days with the Saskatoon Blades.
This time the setback happened to start his second year as a pro, and came after a promising rookie season in 2016-17.
That stellar freshman season included 60 American Hockey League games with the Manitoba Moose, and 10 solid outings with the parent Winnipeg Jets.  The defenceman was determined to build on his good first impression coming into last season, but suffered a major shoulder injury on his first shift of the AHL pre-season.
Almost a year later, the raw emotion of that night in Grand Forks, North Dakota has faded some as Nogier reflects from his off-season home in Saskatoon.
"You put in four months of work in the gym, and on the ice, not saying that you're necessarily throwing away what you just did for four months, but everything that you worked for – all the gains you got throughout your summer – kinda get lost in the fact that you have to go back to square one and rehabilitate the shoulder that was injured."
Square one, for a second time.
ATTITUDE IS EVERYTHING
The old adage goes, "it's not what happens to you, but how you respond that matters most in life." When it comes to adversity, Nelson Nogier knows how to bounce back.
Flash back a few years to another serious injury, to the same shoulder, when Nogier was putting together an impressive draft year with his hometown Blades in the WHL.
The injury was a turn of events that might have derailed dreams for some, but instead led to personal growth for Nogier.
Backed by his parents, Pat and Lori, Nelson learned the value of choosing the positive approach.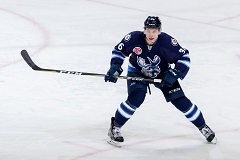 "I think the fact that I've been through the injury once before helped quite a bit, because of the fact that I knew how to deal with the emotions.  When you go through an injury like that, it is an emotional roller coaster. When it first happens there's a lot of frustration, a lot of anger.  Then when you kinda get through the surgery, and you kinda get into the early stages of rehab I think that if you do keep a positive mindset.  That's something I tried to do.  It helps speed up your recovery process."
In this most recent comeback Nogier, credits former Moose Athletic Therapist Scott McLeod and current Moose Head Athletic Trainer Jake Wolff for their support on the road to recovery.  McLeod and Wolff's ability to break the process into smaller, more manageable, steps helped Nogier remain patient.  The plan also prevented him from getting lost in the months-long process.
"When you get down on yourself and get negative, it just makes the situation that much worse and it makes it feel that much longer," said the 22 year-old before emphasizing the benefits of staying in the moment. "If you can have a positive mindset, and work through that day-by-day, there's a part of you that almost forgets you're injured. You try and make that the new normal. You try and make the rehab process your daily task, because that's what it is. You know what the end goal is, that's to be back playing on the ice with your brothers."
BACK IN THE GAME
Nearly six months after that night in Grand Forks - on March 16, 2018 - the time had come.
The Moose were in San Antonio for game 63 of their season, and Nelson Nogier was ready to get back in uniform.
All those rehab sessions, workouts, solo skates, and practices were behind him and it was time to play.  It was a thrilling, challenging time heading down the stretch to the Calder Cup playoffs.
"It was more so a mental victory to get into those games. You're quite a bit behind the eight-ball in regards to how fast the play is at that time of year. When you're playing against guys that have been playing a full season, and then you're coming in after missing 63 consecutive games - your mind's not moving as fast as it should be. The game seems a lot faster than it should be," said Nogier before adding how good it was to have that experience heading into the off season. "But, just to know you got through the whole rehab process, and all that time off, and to be able to be back doing what you're supposed to be doing - it allows you to cope with the injury a little bit better and move on from it a little bit faster."
Nogier skated in 13 of the final 14 games of the regular season, and two playoff tilts, before being assigned to the group of extras who skated throughout the Jets' playoff run.
BIG SEASON, SHORT TERM FOCUS
Healthy and upbeat heading into this season, Nogier is well-aware it's an important year.
He's out to build on his first two seasons, and make a good impression on the Jets' organization, as he plays the final campaign of his entry-level deal.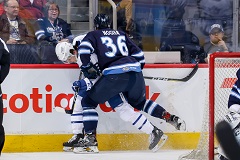 "You come in with the mindset that you want to have a really strong training camp, and then you don't want to really look too, too much further past that," said the Jets' fourth round pick in 2014. "It's like you said with the injury, and not looking at the big picture – just getting those milestones (short term goals). It allows you to one, enjoy the experience that much more. And then two, you really get to put your full energy and effort into the task at hand versus so much worrying about the end result or what's coming next."
Two major injuries in five seasons, and yet despite the physical and emotional pain that goes along with them, Nogier feels he's taken on each obstacle as another chance to learn and grow.  Now he can't wait to put his energy into moving his career forward.
"This is the most excited I've ever been for a hockey season in my life, and so obviously there's a lot of excitement, a lot of emotion, because at the end of the day I missed a lot of time last year – pretty well the entire season. So I obviously want to get out there and start playing again. But, as we just touched on, it's going to kind of be a bit of a task for me to just manage my emotions and make sure I keep a level head and not get too high.  Not get too low when things maybe don't go my way. It's kinda just stay on the straight path and keep my nose to the grindstone. "
Wise words, and no surprise from a young guy with experience beyond his years.