From draft day to the big stage
By: Mitch Peacock | Published: June 22nd 2017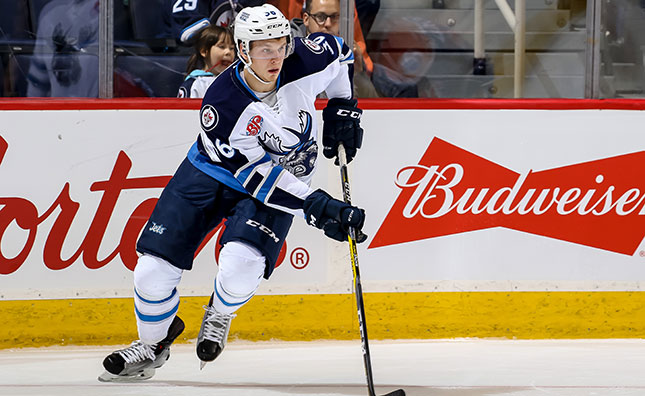 The NHL Draft takes place Friday, June 23 and 24 in Chicago and the Jets' staff will be there doing all it can to add more key pieces for the club's future.
Ask any exec, from any team, and they'll tell you – teams need players to emerge from outside of the first couple rounds to push for titles.
NOGIER MAKES MOST OF TASTE
Defenceman Nelson Nogier chipped in with ten NHL games for the Jets in his rookie season.  Not bad for a guy who remembers being far from sure about his draft chances back in 2014.
"I had very little expectations as I was hurt for a good chunk of my draft year," said the 21 year-old over the phone from his hometown of Saskatoon. "Right before Christmas I sustained a shoulder injury that put me out for the remainder of the season. That put me in the passenger seat, as I could no longer play. I stayed positive throughout the rehab process, and despite being ranked 55th at midterm rankings, I sat at my computer on draft day not knowing what to expect. Because of the injury I knew there was a chance I might not hear my name, but come the fourth round, Winnipeg selected me with the 101st pick."
Hours and hours of homework by the Jets' staff go into making informed choices.  Then it's about working with the player to help them reach their potential.  It's a familiar process for Nogier with 60 American Hockey League games under-his-belt along with that steady spell filling in for the Jets when they were a banged-up bunch.
"With some injuries there at the end of the season, with the Jets I mean, there was that opportunity to go in there and play my game and I did that and just tried to soak in as much as I could so that I could have a good summer of training back here at home."
PLENTY OF SUPPORT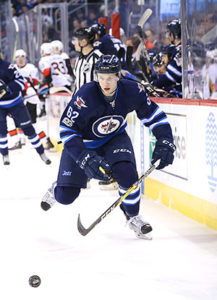 There's so much for rookie pros to get used to on, and off, the ice.
From leaving billet-life to the grind of a long season of squaring off against men – it can be tough, and Nogier is quick to admit things didn't come easy.
"It certainly wasn't a straight line to get to where I wanted to be, but I was surrounded with a good group of guys that helped me get to what I was able to achieve."
Nogier credits his Moose teammates, giving special mention to veterans like Julian Melchiori and Kevin Czuczman, and the team's coaches with always being there to offer instruction and advice.
"The biggest thing is just, like I had mentioned, adjusting to the speed and the size and some nights that don't go your way all the time. And, as a young defenceman, there are definitely highs and lows throughout a season when you're trying to adapt to that change of pace. There were times when I was in-and-out of the (Moose) lineup because I was struggling with being able to handle certain things. On top of that too, there's the travel and stuff that you're kind of faced with – especially in the American League. You've sometimes got the threes-in-threes, and you've got the long days in the airports and that's a hard thing to adjust to as well."
BIG GAINS
While Nogier can identify a number of ways he's grown his game over the past year, he says he's made the biggest gains in improving the mental side of his play.
"If you can get your mindset tuned-in right the body will often follow I found here throughout the first rookie season," adding managing what you can manage is a valuable skill. "The size and speed is one thing, but there's the grind of playing lots of games, lots of travel and it's stuff like that that you want to try and control with your mindset and your emotions."
MANAGING EXPECTATIONS
Nogier is feeling good about his off-season to date, a time that's featured lots of work at an expanded facility in Saskatoon under the guidance of long-time trainer Blaine Whyte.
While the former Saskatoon Blade and Red Deer Rebel is hungry to get more time with the big club, he believes keeping his expectations in order heading into the new season is vital.
"I can't speak on behalf of other players but it's just a matter of keeping my expectations in check. Not going in there (training camp) with too high of hopes. It's just going to be a matter of me taking care of what I can here at home, as far as training goes, and making sure I'm prepared when I come in to camp and just trying to control what I can control."
DEVELOPMENT CAMP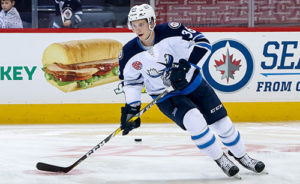 Next up for Nelson is Jets Development Camp at Bell MTS Iceplex.  It's a chance to check in with the organization and maybe a bit of a "break" from the love he's been getting from family and friends in Saskatchewan after that first sample of National Hockey League life.
"The amount of times I've had to explain how my 10 games went (laughs) it seems like I played a hundred games, the amount of times I've told the stories it's been crazy, but it's been really good support here back home."
Well-supported at the rink, and away from it too, Nelson Nogier has a great base to work from as he chases his hockey dreams – dreams that seemed so far away as he sat at his computer on Draft day in 2014.