One quarter down
By: Mitch Peacock | Published: November 23rd 2017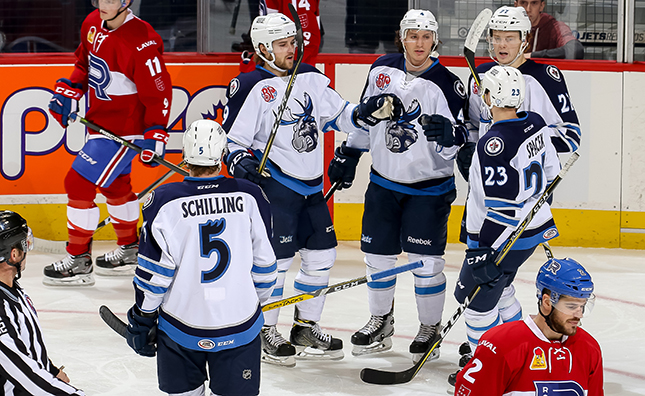 By almost any measure, the Manitoba Moose are off to a strong start.
The Moose are a quarter of the way through the new season, and the Jets' American Hockey League affiliate is in first place in the always competitive Central Division with a .684 points percentage.  It's a record made possible by producing a consistently disciplined effort over a demanding early season schedule.
Manitoba played 11 of its first 15 games away from home and managed to go 7-4-0-0 on their travels, including a run of four straight wins during a grinding six-game trip through California.  Just as importantly, Manitoba was able to come home and find ways to win every all four games of their recent home stand to make the most of their success on the road.
Depth, talent, teamwork, chemistry, a willingness to grow, and a fairly stable roster, guided by strong leadership in the dressing room and behind the bench are leading to good things at this early stage.  With two regulation losses in the last 14 starts, it would be easy for the Moose to get ahead of themselves and lose focus, but that's something the team is endeavouring to avoid.
"We want to celebrate what we've done, and the guys are doing a great job," said head coach Pascal Vincent after the latest streak reached four wins. "We've had a great start, but we stay in the moment. It's building confidence. Those guys are learning to win. That desire to win, and that confidence you get that comes with winning is an important skill, and we're building that right now and that's great. But it's early in the season. Lots of hockey to be played, lots of work to be done. But, so far – the points that we got – nobody can take that away from us, and we're building something special here so we're going to keep working on it."
NICE MIX
Though things can change quickly in the American Hockey League, Pascal Vincent's roster has been fairly consistent with a blend of veteran experience, rising prospects, and new pros with quality at every position.
That mixture, guided by Vincent and his staff have the team believing in its ability to compete for two points every night, in any situation.
"I think the depth on our team is really important and I think just the experience that we have to contribute to that is big," said rookie forward Jansen Harkins after practice last weekend. "Obviously, there's some older guys. Schills (Cameron Schilling) is new this year… Cormier both really good guys. Lipon, Kramer – just all the veterans on this team are really supportive. I think we've got a good mix of older veterans and some young players coming up, so I think we've got a good balance right now and I guess it's showing the past couple weeks. We've been playing the way we want to. They (the veterans) definitely drive the bus, and we're just trying to learn as much as we can from them and be a sponge and soak up some teaching that they're doing"
TEAM TOTALS TELL STORY
Quality roster mix, limited roster turnover, good chemistry, and consistent effort are all key elements for the Moose and a reason for their early season accomplishments.  It's a success reflected by the team's place in the standings, and a positive start built on a good foundation.
Manitoba is in the AHL's top-10 in goals for, goals against, power play, and penalty killing.  The team also averages the third-fewest penalty minutes per game in the league.
"You're not going to have your best game night in and night out," said defenceman Cameron Schilling after a recent morning skate. "So, you have to adjust your game to how you're feeling that night. I think it's a huge key that we can score with the best of them. We can defend. We can win 2-1 games. We can win 1-0 games. But then, we also can score and put six up. So, overall from the very small sample we've had of the season so far, I think our team has been showing a lot of strength."
With team success comes individual attention, and that's true for Schilling and his teammates through 19 games.  The veteran blue-liner is fourth in AHL scoring at his position, while Jack Roslovic is second in overall league scoring, and rookie Mason Appleton is third in points among American League freshman.
ONLY THE BEGINNING
So what to make of this strong push out of the gates?
Well, it's just that, as 19 games do not make a season.  The team is fully aware of that fact.  Last season, the club had just four fewer points after 19 contests and missed out on the playoffs, so no one is planning a parade down Portage Avenue.
"There are always ways to get better, and that's our job is to find ways to get better," said coach Vincent after the team's latest outing. "Just like when you lose a hockey game, or you win a hockey game, the result cannot be dictating what you do in the future.  It's the process, and that's what we're teaching here, making sure we stick to the plan and we keep learning and keep progressing. There's always a better way. There's always a way to improve, and that's what we're doing, and the guys have been responding well. The team chemistry has been great. The guys are playing well for each other so it's a lot of fun right now."
So as the coach might say, one quarter down – still three quarters to go.