Oligny Wears his Heart on his Sleeve
By: Anthony Fusco | Published: July 12th 2022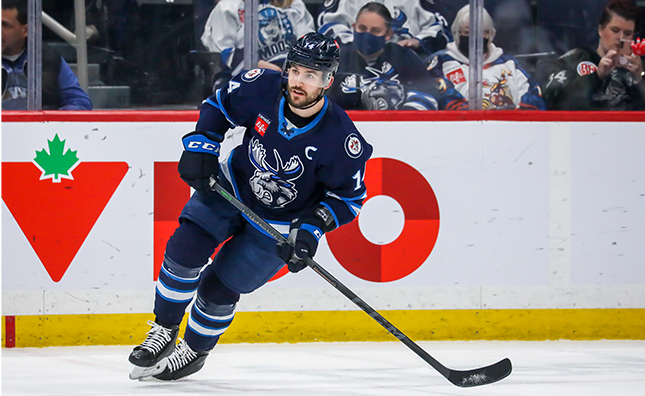 Jimmy Oligny encompasses what it means to be a captain. The title comes with substantial responsibility and includes duties such as promoting a strong culture, playing at a high level and serving as an ambassador in the community.
Many of the past Manitoba Moose captains were notable players who made an impact with their actions both on and off the ice. Oligny, who served his first season as captain through the 2021-22 campaign, hopes to continue expand his leadership role when the Moose get back on the ice in October.
The Moose had been without a captain since the end of the 2019-20 season when Peter Stoykewych retired. With new head coach Mark Morrison behind the bench, it was a waiting game to see who he would name as the new captain. It was an important choice, as the player he selected would be an extension of his leadership and heavily leaned upon to step up in the dressing room.  Morrison's choice of Oligny turned out to be an easy one.
"He earns respect from all the players in there from how hard he works, how he handles himself during the game and makes sure we're safe," remarked Morrison.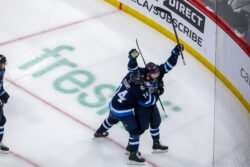 The Moose squad of 2021-22 was a young group filled with up and coming Winnipeg Jets prospects. It's Morrison's job to groom that next generation for the NHL. The experienced bench boss observed that having a player like Oligny spreading the same message as the coaching staff was a huge positive.
"He's our captain, he's been in all the games," said Morrison. "In the dressing room he's preaching the same message that the coaches are."
Oligny knew accepting the captaincy came with a multitude of responsibilities. The defenceman was ready to step into the role and meet the challenges that awaited him.
"For me it was a great honour and I felt I was ready to fulfill that role. I think next year I'll be able to take it to another level," Oligny explained. "For me this year was more of a learning experience being the captain for the first time. I've looked back at lot and saw things that didn't mean much to me when I was younger but now that I'm in that position, I keep an eye on all the small details. I really want to take it to the next level next year. That's a big part of my game that I want to have. I want to bring my leadership role to another level."
A large part of Oligny's duties include being paired with one of the organization's youthful defence prospects throughout the season. Oligny's job is to provide guidance and leadership shift-by-shift and the results have been excellent so far. Early on in his Moose tenure, Leon Gawanke spent substantial time with Oligny. Gawanke was able to use those lessons and grow into the skater who recently led the Moose defence with 36 points (10G, 26A).
Oligny also made significant strides this past season with both Ville Heinola and Simon Lundmark. Both were young Jets prospects finding their stride and growing into their respective games. Heinola, who bounced between the Moose and Jets this season, was productive when paired with Oligny and finished the season with 26 points (5G, 21A) in 41 games. The Finnish defender also put together a memorable playoff performance with five points (1G, 4A) in five post-season contests in the Division Semifinals.
The 2021-22 season was the first in North America and the AHL for Lundmark. The Stockholm, Sweden product, who was drafted in the second round in the 2019 NHL Entry Draft, spent the majority of his rookie campaign paired with the veteran Oligny. The latter was able to show the former the ropes and Lundmark grew more accustomed with his role and ended the season with 14 points (4G, 10A) in 57 games.
"I started doing that when I first came with the Moose. Me and Eric (Assistant Coach Eric Dubois) were joking that I was the babysitter of the group," laughed Oligny. "I really enjoyed doing that. I liked when they asked questions. I like to be there for them. Especially when they want to learn. My job is to try and steer these young guys in the right direction.  It makes my job way easier when these guys just want to learn and take everything that's available to them to get better."
Giving Back to the Community
Another area falling under Oligny's umbrella is the outreach aspect of his role. He's looked upon as a role model and is expected to demonstrate the values of the organization when out in the community. Oligny takes this part of his job incredibly seriously and his dedication paid off when he was rewarded by being named the Moose winner of the EPRA Julian Klymkiw Community Service Award and IOA/American Specialty AHL Person of the Year Award this past season. It was the third time the defenceman has been nominated an AHL team's community-minded player in his eight-season career.
Oligny was involved in the Moose Community Practice Series at Camp Manitou led by instructors from Jets Hockey Development. The skate was followed by a Q&A with Oligny and fellow defenceman Johnathan Kovacevic. Oligny also participated in a welcome video and wrapped gifts for children attending the Moose Holiday Game from the Children's Rehabilitation Foundation.
https://twitter.com/TNYouthFDN/status/1226939533075324934
Oligny is heavily active with the True North Youth Foundation's Project 11. The veteran defender helped record video messages in both English and French for the initiative, answering children's questions on methods Oligny uses to improve his own mental health. Additionally, Oligny is featured in a Tai Chi video series, which is part of the early years Project 11 curriculum for students aged K-3 across the province of Manitoba.
"It's really fun to get into the community and getting to hang with the people who support us," remarked Oligny. "It's part of our job to go out there and help. We get to work with the kids, kids that are looking up to us. It's fun for us and it's fun for them at the same time. I really enjoy doing that."
Though the pandemic made in-person visits challenging, Oligny and his teammates were able to visit virtually with schools across Manitoba to promote literacy as part of the Stick to Reading initiative. Oligny, along with teammate Thomas Caron, read and conversed in both French and English with a French immersion elementary school class.
Oligny, a veteran defenceman of 448 AHL games, will patrol the blue line once again for the Moose this coming season. It will be the defender's fifth season with Manitoba and Oligny has plans to hopefully make it his most memorable to date.
"Our team goal is always the same. We want to win the Calder Cup. We want to win a championship," said Oligny.  "I talked to Mike Keane (Assistant, Player Development) before I went back home. He made me realize that I'm not going to play forever. I've never won anything and I really want to win a championship. I think we have the right guys to do it and we have a good team so I think it's a great opportunity to try and win a championship while we have all these guys around. I also really want to take my leadership to another level and that will hopefully help the team go further, especially in the playoffs with how it ended last year. Those are the two things I want to try and accomplish next year."
Ticket memberships for the 2022-23 Manitoba Moose season are available now. Visit MooseHockey.com/PACKAGES for more information.