Perfetti Made Most of AHL Opportunity
By: Daniel Fink | Published: May 12th 2021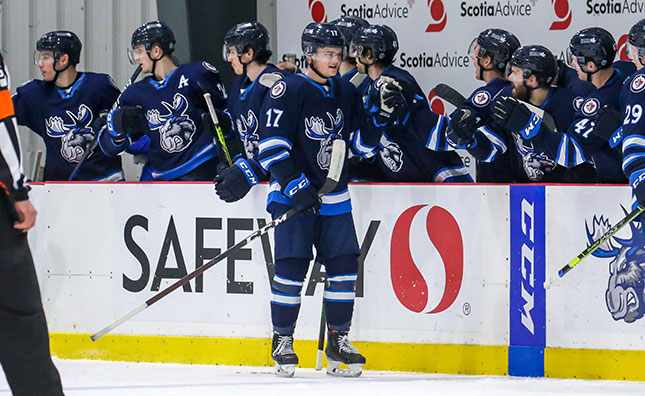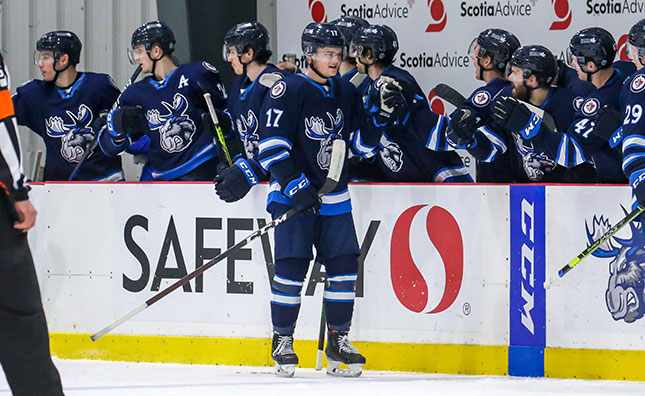 Cole Perfetti's season with the Manitoba Moose is over, but that's a testament to the growth the 2020 10th overall pick showed the past 100 days. Perfetti left the Moose to join Team Canada for the IIHF World Championship in Riga, Latvia. It's a rare honour for a young player, but one well-earned by the dynamic forward.
"It's really exciting. Any time you can wear the 'Maple Leaf' it's a huge honour and it's hard to say no," Perfetti told reporters Wednesday afternoon. "I'm super-thrilled, and honoured, and super-excited to get over there and put on that jersey again. This tournament is pretty cool. It's always been a bucket list tournament for me. So to be able to do it, especially as a 19-year-old, and get the chance to play in this tournament is pretty special."
Perfetti played in all 32 Moose games prior to missing Tuesday's contest due to a certain phone call from Team Canada GM Roberto Luongo. In that time, he recorded 26 points (9G, 17A) which placed him second on the team in point production. As of today, Perfetti ranks sixth among AHL rookies in scoring, despite being one of the youngest players in that freshman crop. The pinnacle of the Whitby, Ont. product's season came when he was named the CCM/AHL Rookie of the Month for April. He was the first Moose forward to ever lay claim to the monthly honour. All these accomplishments for a player who in a normal season wouldn't be eligible to suit up in the AHL.
"For a year where a lot of kids didn't get development, I got more than expected… more than you'd ever get," explained Perfetti. "Playing in the AHL as a 19-year-old, it's just something that doesn't happen. For me to get that experience, it's priceless. It's so crucial for my development. I didn't realize how beneficial it was going to be until, looking back at it now, how much of a better hockey player I became. Looking back to where I started, it's night and day."
Another look at this nifty goal by @NHLJets 2020 1st round selection Cole Perfetti from last night's win.

Perfetti now has eight points in his last four games!#GoMooseGo pic.twitter.com/YY665M3t36

— Austin Siragusa (@GooseOnTheMoose) April 23, 2021
Perfetti started the campaign with a respectable four points (2G, 2A) in his first 10 professional games. He scored his first goal in his first game, helped set up an overtime winner a few games later and got his feet wet in the AHL. The first half of his season was characterized by most of his production coming on the power play. In April, though, Perfetti's skill spilled over into the five-on-five game and the youngster caught fire on his way to being acknowledged by the league.
"I knew it was going to take time to adjust to the pro level, to a man's game. It's not easy to score five-on-five and you can see that in the NHL as well," Perfetti detailed. "Around the 14-15 game mark, I don't know what it was a switch just sort of flipped and pucks started to go in more. We started to score more as a team, and then I was starting to create a lot more chances five-on-five. Whether that was setting my teammates up or going to the net. Whatever it was, I was getting more opportunities. I don't know what it was, but it was a struggle in the beginning but in the second half I was creating a lot more."
I meeeeaaaaan…. Come on. #GoMooseGo

🚨: @ColePerfetti91
🍎: @n13jones pic.twitter.com/QmPDejS6Dq

— Manitoba Moose (@ManitobaMoose) May 8, 2021
For Moose head coach Pascal Vincent, along with his assistants Marty Johnston and Eric Dubois, their goal is to prepare players for the next level. Vincent consistently points out that the reason the Moose exist is to help the Winnipeg Jets achieve their ultimate goal. Throughout the season, the Moose staff helped Perfetti develop from a freshly drafted prospect to a player worthy of a call to play for Team Canada.
"I can't thank them enough for the time and effort they put into me," gushed Perfetti. "I came in and was given an opportunity right away. So I can't thank them enough for them to allow me to just be the player I am. Obviously work within the structure, but still be the player that got me drafted and help me become even better every day. It was awesome learning from them."
While Perfetti is excited for his opportunity wearing his country's colours, the young forward does leave behind something special. The Moose are in the midst of one of the best runs in franchise history with points in 12-straight games (10-0-0-2). The team holds an 18-11-2-2 mark, good for 40 points and second in the Canadian Division. The 2020-21 edition of the Moose has surprised and impressed at every turn and it's somewhat bitter-sweet for Perfetti to be moving on right before the end of the season.
"It's definitely hard to leave. It sucked the other day driving home and knowing I'm not going to see those guys. It's hard when you're spending every day with them, having such a good time, winning every game, becoming such a good team and building those relationships. The next day, you're not going to see them the rest of the summer and potentially for a very long time. So it's hard to wrap your mind around that. It sucks leaving them. The last couple days I've been phoning and texting the guys and just wish I was still there kinda. Just finishing out with them and finishing what we started."
It's unclear whether we will see Cole Perfetti donning the antlers again in the future. What is clear, though, is the 32 games he spent with the club were extremely beneficial for Perfetti's development and an exciting preview of the player he will become.