April 5 Practice Report – Moose Embracing Pressure Hockey
By: Mitch Peacock | Published: April 5th 2019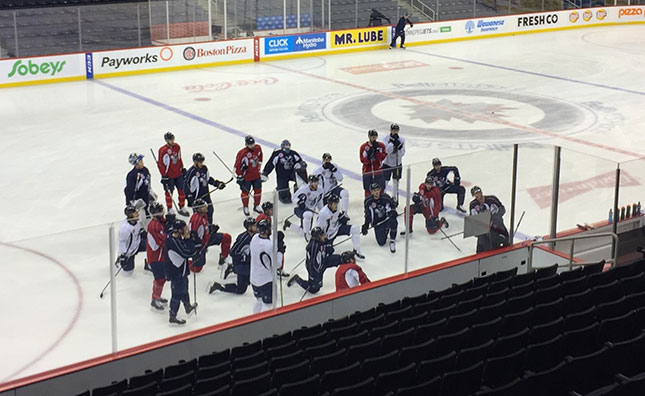 The Manitoba Moose tuned up for their final regular season home games with a practice today at Bell MTS Place.
The Moose haven't wrapped up a playoff spot going into the second-last weekend of the 76-game grind, but they're clearly doing everything they can to make that happen.
Injuries and call-ups left the Moose in 31st, and last place, overall as of Dec. 30, but a stirring second-half revival has them in the final playoff spot in the Central Division 71 games into the campaign. A dazzling run at home has fueled the climb up the standings. Manitoba suffered just two regulation losses in their last 22 games downtown (18-2-1-1).
While working their way back into the playoff picture hasn't been easy, it may just be the perfect preparation for the post-season, should they get there. Two huge wins over the Pacific Division-leading Bakersfield Condors in downtown Winnipeg this week were the latest examples of making the best out of pressure situations.
Veteran centre Logan Shaw on the latest wins in the playoff push.
"I think (Wednesday night) and (Tuesday night), in general, they're playoff games for us. You know we're still playing to continue our push. I think our mentality is, 'just play playoff hockey', and think that's what we're trying to do. I think that's kind of nice right now that we're playing good teams coming down the stretch. You know, if/when when we get into the playoffs, we're playing playoff hockey already, and I think that's a big step for us right now with those two games."
Shaw, who scored a power play goal in each win over Bakersfield and leads Manitoba with 12 extra man tallies, was in the middle of the play that produced Mason Appleton's game-winning goal on Wednesday. It was a goal that came late in the third period with a talented Oilers' affiliate hungry to snap a 2-2 tie and help their drive for first in the Pacific Division.
It was a clutch performance that wasn't lost on head coach Pascal Vincent.
"Anything that comes our way, we try to use it and turn that into something we can take advantage of. You know, like, they scored that goal and it seems like the momentum is going to switch, but the first thing you know is our guys are pushing the pace, and they're on the forecheck, and they're looking to create some more. That goal was just a good execution. Good zone entry, we had no room, we didn't turn the puck over. Good forecheck to get the puck back and attacking the net. So it's basic hockey, but at the same time, it's hard to do under that kind of pressure."
Manitoba hosts Calgary's affiliate, the Stockton Heat, Saturday and Sunday afternoon in a pair of 2 p.m. starts to close out the home portion of their regular season schedule.
The Moose picked up three points from two meetings with Stockton in Northern California back in early December.
Saturday's Country Music Day, featuring a Sami Niku mini bobblehead giveaway and an in-game concert from Doc Walker, goes at 2 p.m. on Saturday.  Fan Appreciation Day follows on Sunday in another 2 p.m. puck drop.  Tickets for both games are available at moosehockey.com/tickets.