Dec. 4 Practice Report – Players Contributing from Under the Radar
By: Mitch Peacock | Published: December 4th 2018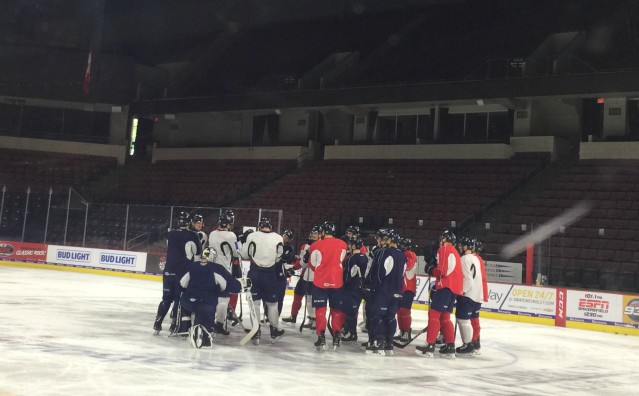 High draft picks and top prospects may grab the bulk of the headlines, but every player on an American Hockey League team can help an organization to be better.
Defenceman Charles-David Beaudoin worked his way from a tryout with the Moose early last season, to an AHL contract and wearing an alternate captain's 'A' on his jersey in the absence of the injured JC Lipon.
A former captain in the QMJHL, Beaudoin's leadership is especially valuable with Manitoba decimated by injuries and call-ups.  He says at times like these, it's critical everyone in the dressing feels like they've got a voice.
"We've got to believe in that.  That everyone have a voice in the dressing room with all the movement right now," said Beaudoin after practice in Bakersfield as the club prepares for the second half of this six game road trip. "It's opportunities for other guys to step in and leadership is important to guide the boat in the right direction –  just making sure everyone are themselves and they're ready to play nights-in and nights-out."
After beating San Diego 5-1 to open this six game trip through California, the Moose have dropped two straight including a 4-0 loss here in Bakersfield Saturday, but the coaching staff is pleased with the effort and commitment of the group.
Second year Moose forward Michael Spacek is a key part of the team, and his overall game is improving.  A Jets' fourth-round pick in 2015, Spacek had 17 goals as a rookie and tied a club record for power play goals by a rookie with ten.
Moose Assistant coach Marty Johnston believes Spacek is becoming more than just a special team standout.
"We feel that this year, although the points may not be where he'd like them to be, is that his play away from the puck is getting much better. He's very reliable in his own zone. He's good on faceoffs. So, he's doing all of the little things it takes to be a good pro and the points will come."
Spacek recently had a stretch of five assists in a six-game span, to improve to 10 points for the season.
Meanwhile, defenceman Luke Green has re-joined the team after missing four games with a lower body injury. Green, who skated both yesterday and today here in California, could suit up Wednesday night when the Moose face the Condors with a chance to get to two-and-two on this trip to California.
In addition, defenceman Dajon Mingo worked out with the Moose for the first time today. Mingo signed a professional tryout with Manitoba, and joins the team from the club's ECHL affiliate in Jacksonville.
Catch round two between the Jets' and Oilers' AHL affiliates starting with the pre-game show Wednesday night at 8:15 p.m. CDT on moosehockey.com, the Moose App, TSN 1290, and AHL TV.