Practice Report: White Working His Way Back
By: Daniel Fink | Published: December 12th 2019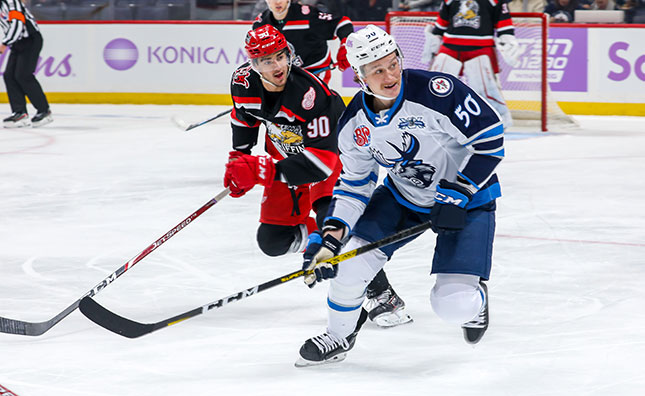 The Moose practiced at H-E-B Center in suburban Austin, Texas on Thursday. The team is preparing for Friday's rematch with the Texas Stars following a 3-1 loss to their hosts on Wednesday. While the Moose work their way through their current five-game road swing, forward Ryan White is working his way back into the lineup.
White suffered a shoulder injury against the Grand Rapids Griffins back on Nov. 2 and hasn't played a game since. The veteran forward has missed 18 games, but there is a light at the end of the tunnel.
White rejoined the Moose on this road trip and has been skating with the team in practice. That said, he still sports the yellow non-contact sweater as the rehab process continues.
"Everything's going the right way. That's always the goal, I think, when you're injured. Just keep going north and things have been going pretty good," said White ahead of the team's skate. "I'm just trying to stay positive and not get too far ahead of myself. Back with the team here, getting a little itchy trying to get back in the lineup. Just need to listen to the trainers keep working hard and I'll be ready here pretty soon."
Being out of the lineup is tough enough. Unfortunately for White though, the team has spent most of the last month on the road. With the Brandon, Man. product not traveling, it can lead to feelings of isolation from the team.
"You try to check in with the guys and get a few messages here and there, trying to keep the pulse of the team. You try to stay a part of it. Me and (Kristian Reichel) were back home for a while. You kind of feel like you're on a little bit on an island by yourself, but the boys are pretty good at trying to keep you involved."
Now, as White mentioned, he wasn't completely on his own. Kristian Reichel, who returned from injury just two games ago, was also working his way back from a lower body injury. The two were able to train together over the weeks. Last week, Reichel gave White plenty of credit for keeping him on track throughout the process. Meanwhile the veteran says he had to work to keep up with the second-year pro.
"You know, as much as I was helping him, I think he was pushing me just as hard. He's got those young legs so there was lots of days I was trying to keep up with him too. It's always good having a guy to work with. It always sucks being out, but definitely nice having a guy to go through the battles with every day and keep pushing each other trying to get back and healthy."
Now back with the team, White is looking forward to his eventual return to game action and provide whatever boost he can.
"When you're coming back in the lineup the team needs some help some times and some fresh faces and hungry bodies goes a long way some times."
The Moose face off against the Stars Friday night in a 7 p.m. matchup. Tune in to the game on TSN 1290, moosehockey.com/listenlive and AHLTV.