PRACTICE REPORT: Moose return to ice following holiday break
By: Austin Siragusa | Published: December 28th 2019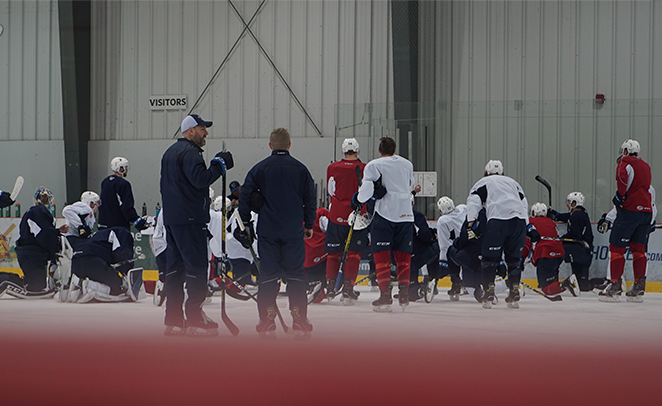 The Manitoba Moose held a pair of practices at Bell MTS Iceplex ahead of their contest Sunday afternoon against the Rockford IceHogs.
Thursday and Friday's skates were the team's first since returning from their holiday break and the players were excited to get back to work.
"It was nice (after) being on the road for a while at the end of the month," said Moose forward Cole Maier. "It just gave everybody a chance to re-energize a little bit. Everybody is excited for these practices and excited for the game tomorrow."
One of those participants in the practices was forward Ryan White. The veteran forward had been sidelined with an injury since Nov. 2 and was excited to finally be skating with the team again.
"It's been a little longer than I liked," White joked following practice. "But you've got to do your due diligence and make sure you are ready to go."
The last time the Moose and Icehogs met was on Dec. 3, where the IceHogs came out with a 4-2 victory. The IceHogs will be a different looking team on Sunday with a number of players now skating with the NHL's Chicago Blackhawks, including forwards Dylan Sikura and John Quenneville.
White says the key to Manitoba's success will be to focus on their own game.
"Sometimes it's just best to worry about your own team," White said. "We'll be ready for them. We'll be ready for ourselves and making sure we are playing the right way. Usually when we play the right way we take care of business."
The Moose face off against the Rockford IceHogs on Dec. 29 (2 p.m.) and Dec. 31 (4 p.m.). Tickets for both games are available at moosehockey.com/tickets.