Dec. 29 Practice Report – Moose, Shaw Eager To Get Going
By: Mitch Peacock | Published: December 29th 2018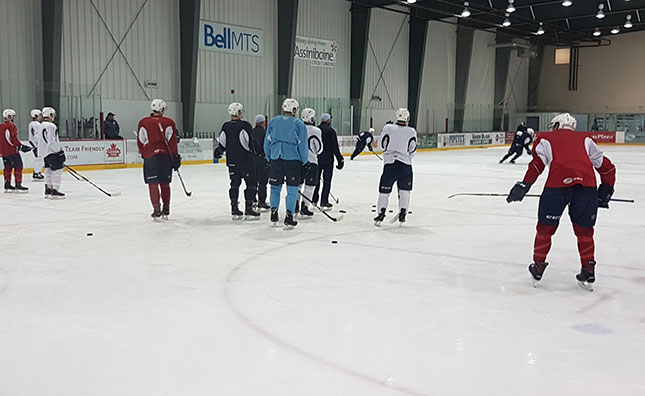 It's almost game time for the Manitoba Moose.
After closing out a two-game set against the Grand Rapids Griffins back on December 22, the Moose got some time off before returning to practice last night at Bell MTS Iceplex.  Another demanding session this morning at the club's practice facility has the team looking forward to its first-ever games against the Colorado Eagles.
The Eagles joined the American Hockey League this fall as the new primary affiliate of the Colorado Avalanche, and made the step up after the franchise won each of the last two ECHL titles.
Logan Shaw leads the Moose in scoring going into tomorrow's 2 p.m. faceoff, the team's return to action and next chance to return to the win column.
Five straight losses, fueled in-part by injuries and call-ups, have been tough to take but Moose forward Logan Shaw says there's a positive side to dealing with one of the realities of life in the AHL.
"It's part of hockey, and I think it's good for myself and other players as well to be able to be put in different situations that they normally wouldn't be put in. You know, it helps you grow your game and mature as a player. I think playing in all different situations – five-on-five, five-on-four, four-on-five – it's all been great and I think it's a learning process here right now."
Goals have been hard to come by for the Moose.  The team entered Saturday's schedule 31st in goals-per-game with 2.31, but Shaw says it's an area the team is aware of and working to improve.
"Myself personally, I'm not completely satisfied with where I've been lately over the last couple of games.  I'm sure the whole team isn't as a whole, but I think it's just about trying to get that little spark and you know getting something going in the next couple of games and being able to build off that for the second half."
Shaw attended training camp with the Calgary Flames, then joined the Anaheim Ducks' affiliate in San Diego on an American Hockey League contract, before being signed to an NHL deal by the Jets . It's been a whirlwind, and 15 points in 16 Moose games suggest he's adjusting well, but that's a lot to go through in a short time.
All that has to be stressful, doesn't it?
"Yeah and no. I mean I was looking for an opportunity. Any opportunity basically just to get back to the NHL and help a team win, but it's been – every year so far has been – another step towards a storybook and it's awesome," said the Glace Bay, Nova Scotia product smiling after practice. "You know, starting in San Diego – well starting in Calgary and going to San Diego – and coming here. I love it here, it's awesome. Me and my fiancée both love it. You know, it's a hockey town, and yeah it is minus-thirty or whatever it is outside, but it is a hockey town and we're really enjoying it here."
A happy couple, and some new fans of friendly Manitoba, sounds like a recipe for good times ahead and good news as the Moose look to get something going coming out of the break.
The Moose host the Eagles Sunday at 2 p.m. and Monday at 4 p.m. at Bell MTS Place.  Visit moosehockey.com/tickets to get in on the action.