PRACTICE REPORT: Comrie Returns to Moose Crease
By: Austin Siragusa | Published: December 30th 2019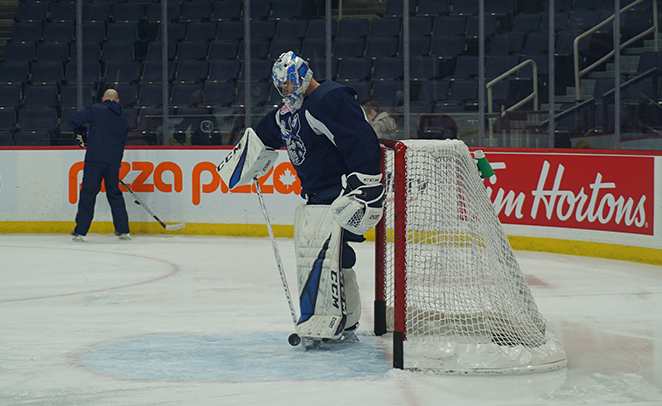 The 2019-2020 season has been quite a journey for Eric Comrie.
The 24-year-old goaltender was originally placed on waivers by the Winnipeg Jets on Sept. 30 and claimed by the Arizona Coyotes on Oct. 1. He appeared in four games, winning them all, with the Tucson Roadrunners while on a conditioning assignment. Comrie was then traded to the Detroit Red Wings on Nov. 30 and played in three games. The Edmonton, Alta. native was then placed on waivers by the Wings and reclaimed by the Jets on Dec. 19 where he was soon placed on waivers again.
This time he cleared, and was assigned to the Moose on Sunday. Comrie took part in his first practice with his team on Monday.
"It's feels like a family when I walked in that room." Comrie said following the skate. "When I walked back in this room it was right where we left off, just having fun, joking around, laughing again and just being friends.
The goaltender admitted this year has been difficult to process, but he is happy to be back with the organization that drafted him in 2013.
"I've been in Manitoba my whole career. I've been playing for four years in Manitoba. It's been a great time here," Comrie said. "Then all of a sudden you're moving around and you aren't sure where you're going to be the next day. It's a little bit harder mentally."
During his time with the Red Wings, Comrie started the club's game at Bell MTS Place, where they lost to the Jets. Comrie gave up five goals on 30 shots, but just to play in the building he spent so much time in was special.
"I looked at the schedule and I was like… I think I'm gonna play that game," Comrie said with a laugh. "Then they tell me I'm gonna play that game and I was like 'Wow, this is sort of surreal!"
"It was fun and awesome to play against my old team."
There were many excited faces on the ice Monday to see Comrie back with a Moose logo on his jersey, including Head Coach Pascal Vincent.
"I told him we might send him down to Jacksonville so he travels a bit more for a conditioning stint," Vincent joked. "It's really exciting for us, the boys are really excited and he's gonna give us a chance to play two goalies."
Now, finally back in his familiar crease, Comrie is determined to help the Moose succeed as soon as he can.
"I think this is a playoff team, no doubt in my mind." Comrie said. "When I looked at this roster before (the season) started I thought this was a playoff team. This was a team that could push for a championship. I still believe that in my mind."
The Moose host the Rockford IceHogs for their annual Shutout Hunger food drive, presented by Red River Co-op, on Tuesday, Dec. 31. Puck drop is scheduled for 4 p.m. Tickets are available at moosehockey.com/tickets.