Dec. 3 Practice Report – Moose Make Most Of Break
By: Mitch Peacock | Published: December 3rd 2018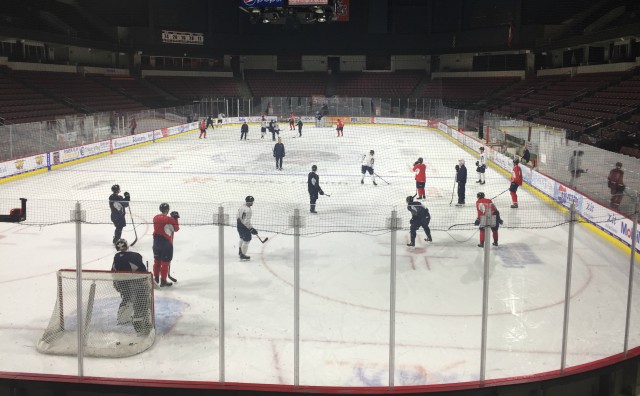 The Manitoba Moose are a new-look bunch these days as they tackle a half-dozen straight games on the road here in California, and that group hit the ice today here in Bakersfield.  It was the first of two consecutive practice days and came after a hard-earned day off.
It's a simple fact that American Hockey League clubs work hard to get players ready for their NHL parent teams.  In this case when the Jets need help, the Moose answer the call.
With Mason Appleton impressing with the big club, Sami Niku and Cam Schilling chipping in on the blueline, and Nelson Nogier standing by ready lend a hand – others are getting opportunities with the Moose.  However with key Moose players unavailable, and six Manitoba players out injured, the challenge of winning at the AHL level grows.
The Moose dropped games in San Diego and Bakersfield on the weekend, but assistant coach Marty Johnston liked what he saw.
"It was a challenge to have that much turnover, in terms of our lineup, but I thought that at the end of the day we were really happy with our compete level and the character that the group showed and they're really starting to come together," said Johnston shortly after Saturday's setback against the Oilers' affiliate in Bakersfield. "Obviously, we'd like to win every game but we were happy with how hard they worked and we're going to continue to work on improving our play on the ice and move forward."
The back-to-back setbacks follow a stellar performance in a lopsided win in San Diego to start this six-game tour.
All this roster juggling comes at a time when the Moose are a busy bunch, but after three games in four days on the West Coast, there's a little room to breathe right now and they're determined to make the most of it.
Johnston on what could be a valuable window.
"I feel like there was some physical games that we just played so 'A' to get the rest, and 'B' to re-set and have a couple days on the road where you maybe have a little bit more time to teach and to have individual meeting with the players.  So it's going to be good. We're going to take advantage of it and really try to make it an opportunity for us to get better and move forward."
After practices today and tomorrow, the Moose are back at it here in Bakersfield Wednesday when they seek to avenge Saturday's loss to the Condors.
Complete coverage of the re-match starts at 8:45 p.m. CDT on moosehockey.com, the Moose App, TSN 1290, and AHL TV.