Feb. 8 Practice Report – Home Sweet Home
By: Mitch Peacock | Published: February 8th 2019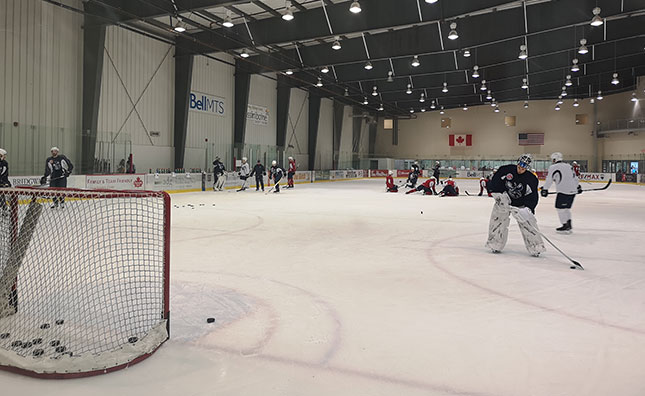 After a road trip that ran a little longer than expected, the Manitoba Moose returned to the comfort of Bell MTS Iceplex for practice today.
Following three post all-star break road games, Manitoba's early morning departure from Grand Rapids, Mich. yesterday went off without a hitch. Weather-related issues then delayed the club's flight out of Minneapolis, leading to a travel day of more than 12 hours.
Despite the hiccup, a brisk skate at the organization's west Winnipeg practice facility this morning got the kinks out and set the table for tomorrow's 6 p.m. date downtown with Texas Stars – the opener of a six game homestand.
"It's out of your control, and you could be busing," offered veteran winger JC Lipon on the travel issues. "We were definitely up early, and it was a full day, so you get out on the ice early this morning and now guys can go home and get their affairs in order, and chores done, and then get an early sleep tonight and two games this weekend – big ones."
No doubt about that.  In the Stars, the Moose find another big Central Division matchup in the heart of the playoff chase.  Manitoba has at least a point in seven of its last 10 games against Central sides, but the team is smarting after just one win on a recently completed stretch of six on the road.
"After the Christmas break the game gets a little bit faster, and a little bit tougher. And again after the all-star break the game gets a little bit faster, and a little bit tougher," said assistant coach Marty Johnston. "I think we're seeing that teams are gearing up for big playoff pushes, and there's not as much ice out there, and space for guys to make plays, and it's about managing the game and managing the puck. I still think we're improving in that area, and we're doing a good job, but we have to be excellent at it for us to be successful. Moving forward, we're going to keep building and keep trying to improve in all areas of our game but the game has certainly picked up from October that's for sure."
The Moose have played the Stars three times this season, all three times in Austin, Texas.  So far the matchup has been very competitive with the Moose taking two of the three, the last in a shootout on Jan. 5.
Saturday night's game is Multicultural Night at Bell MTS Place, while Sunday's 2 p.m. start falls on Polar Bear Jersey Day.  For tickets to this weekend's games, visit moosehockey.com/tickets.