PRACTICE REPORT: Moose Look for Another Win in Laval
By: Austin Siragusa | Published: February 20th 2020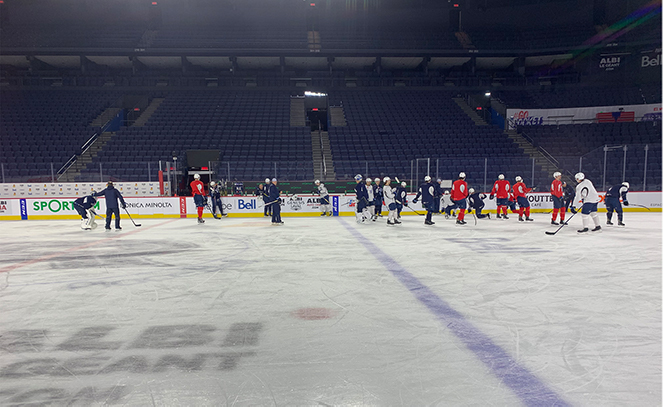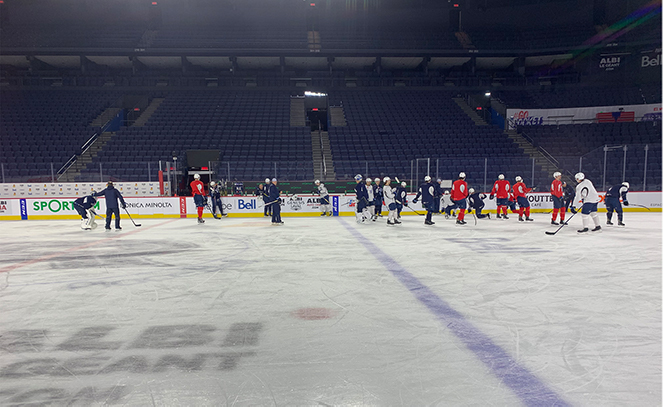 Fresh off a 5-4 shootout win, the Manitoba Moose returned to practice at Place Bell following their win over the Laval Rocket on Wednesday.
"I think we started pretty well," said forward Kristian Vesalainen, who put up two assists on Wednesday. "We got a couple goals then we had a little bit of a (worse) second period but then came back in the third."
"It was a pretty tough game, but I like those games."
Vesalainen's line of JC Lipon and David Gustafsson generated two goals on Wednesday, and the Finnish forward says good chemistry plays a big roll in their success.
"We know where the other guys are," he said. "I think we skate a lot and we like to go pretty straight on the net."
Meantime, rookie forward Cole Maier has been a valuable piece for the Moose forward core with head coach Pascal Vincent moving him throughout the lineup. Maier was happy with his line's play last night.
"We just focus on keeping it simple not trying to do too much out there," Maier said. "I think as long as we can play in the offensive end as much as possible I think that will go a long way for us, and we can start to bang away some of those chances in."
With the shootout win on Wednesday, the Moose remain undefeated (6-0) when the clock surpasses 60 minutes. Maier doesn't have an answer to why the team is so successful in extra time.
"I'm not so sure what that is, but hopefully that's a streak we can keep alive" Maier said with a laugh.
The Moose face off against the Laval Rocket on Friday, Feb. 21. Puck drop is scheduled for 6:30 p.m. CT. The game will be broadcast on TSN 1290 and moosehockey.com/listenlive.