Feb. 25 Practice Report – Moose Seek Goals To Help Playoff Push
By: Mitch Peacock | Published: February 25th 2019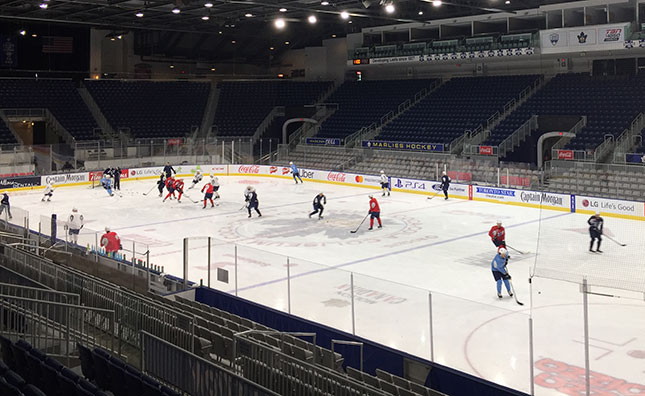 The Manitoba Moose are at the halfway mark of a six-game road trip through Eastern Canada and still looking for their first win of the journey.  Getting things on track was the top priority as the team skated at Coca-Cola Coliseum in Toronto this morning.
A lack of offence is a big reason why the team hasn't been able to carry on its impressive form from a 5-1-0-0 homestand.  The stint at home ended just one week ago, but seems like ages in the 'what have you done for me lately' world of pro hockey.  In the three games to open this trip, one in Toronto and two in Laval, Manitoba has produced only four goals, and two of those came with a late-game extra attacker on to help the cause.  That said, the Moose took a step in the right direction Saturday by outshooting the Rocket 32-22 and generating numerous quality scoring chances in a 3-1 loss.
Rocket goalie Charlie Lindgren was a star in the contest, helping Laval hold off the Moose attack.  It was an effort that included shutting down four Moose power plays, two units that seemed more threatening than has generally been the case of late.
"I think we can't get mad at ourselves for not getting chances.  You've got to capitalize on those chances though," said alternate captain Cam Schilling while reflecting on Saturday's setback. "So, I definitely think we can work on scoring those goals. But, I mean we did get our chances, and we had chances to tie the game up and even win it."
The power play, which looked headed in the right direction Saturday in Quebec, is now 0-for-14 on the trip with shorthanded goals-against in back-to-back games.
First year pro Logan Stanley continues to eat up big minutes on the Moose blueline, and he's being leaned on even more with Tucker Poolman on the Jets roster (reassigned earlier today) and captain Peter Stoykewych sidelined.
Despite his rookie status, Stanley plays in all situations and has positively impacted the power play in a variety of ways, including with a couple of man-advantage goals this season. Now the defenceman is looking in the mirror when it comes to kick-starting the team's playoff push.
"I'm learning and I think you develop with every game, but I think – personally – I still need to better if this team wants to win and I have to help my teammates do that," said the Ontario-product after today's skate in Toronto before opining that he's got plenty of company in the Moose room when it comes to guys who want to take the team's game to another level. "I think every hockey player is a competitor and you want to help your team win no matter what you're doing. So that's me (too), I just have to be a little bit better and help the team."
Manitoba, .500 on the season, continues its playoff push against the Marlies Wednesday before two games in Belleville on the weekend close things out.
Tune in to Wednesday's game against Toronto on TSN2 with puck drop slated for 10 a.m. CT.  You can also hear the game on TSN1290, moosehockey.com/listenlive and the Moose App.