Feb. 26 Practice Report – Moose Add Two, Ready For Home Stretch
By: Mitch Peacock | Published: February 26th 2019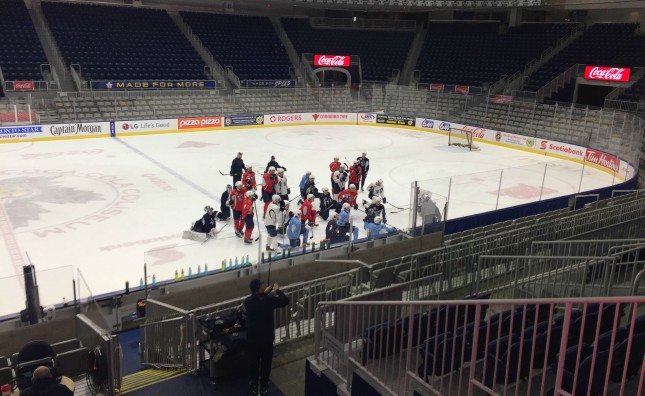 The Manitoba Moose are getting a boost heading into the second half of a critical six-game road trip.
The parent Winnipeg Jets assigned defenceman Tucker Poolman and forward Mason Appleton after the NHL's trade deadline yesterday.  The two standouts were in uniform for today's practice in Toronto at Coca-Cola Coliseum ahead of tomorrow's game here against the Marlies.
With a playoff spot still within reach, but the club on a three-game slide, the two are very welcome additions.
Already in place as well, some veteran leadership with players like Cam Schilling ensuring the group stays up-beat and focused.
"You've got to keep the room positive, you've got to keep them engaged," said Schilling in the aftermath of Saturday's loss in Laval. "You don't want to, kind of, have guys slip away. I think that for the most part you've got to know we're still there. We're not out of the playoffs yet. We've got to put some games together here, and I think we can do that so as long as we can keep guys focused and engaged I think we'll be fine."
Poolman and Appleton should be a big help to the Moose who've been held to four goals over the first three games of this trip.
For the Green Bay, Wisc. product, it's about doing what it takes to climb into a playoff position.
"You look at the standings, and the teams at the bottom (of the Central), it's all very tight. Everyone's two to four points within each other so you get hot at the right time, and this is the right time of the year to do it, and you never know. You control your own destiny for sure, with 20-21 games remaining we've got some ground to make up but we like the spot we're in."
Appleton led the team in scoring at the time of his call-up to the Jets' back in November, while Poolman had an eight game point streak snapped in his last outing with the Moose.
With a loss in Toronto to start the trip, and a pair of setbacks in Laval, the Moose are motivated to make the most of the remaining games on this swing but the schedule isn't easy.
The reigning Calder Cup champs take a five-game point streak into tomorrow's clash with the Moose.  Then it's on to Belleville where the talented young Senators are riding a 15-game point streak.  The club added to its roster this week with top prospect Erik Brannstrom arriving in the Mark Stone deal.
Tune in to Wednesday's matchup at 10 a.m. CT on TSN2.  You can also listen on TSN 1290, moosehockey.com or the Moose App, or stream live on AHLTV.