PRACTICE REPORT: Moose Prepare For Rematch With Wolves
By: Austin Siragusa | Published: February 4th 2020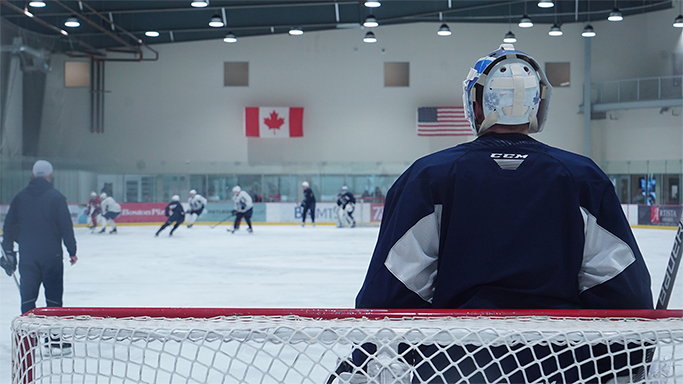 With the playoff race heating up in the Central Division, the Manitoba Moose held practice Tuesday at Bell MTS Iceplex.
The practice was an intense skate for the team. Head Coach Pascal Vincent put the team through numerous battle-drills and hard skating as a spot in the Calder Cup Playoffs is well within reach.
The Moose are gearing up to face the Chicago Wolves on Thursday, who they just faced in a 5-2 loss in Chicago, and the team will be looking to turn things around on home ice.
"We have a lot of video on them," forward C.J. Suess said following the skate. "We know what we need to change and we know we need to play a full 60 minutes to be successful against them."
The Wolves scored three goals in a six minute span over the Moose in Saturday's contest, but Suess was adamant in saying it can't happen again.
"If we don't line up for five minutes we see what happens," Suess said. "They score three quick ones and that was the game. We've got to be ready to go"
Goaltender Mikhail Berdin says he is feeling refreshed and well-rested thanks to some lighter workload. Berdin appeared in 38 of Manitoba's first 48 games. The addition of Eric Comrie has helped get him some much needed rest heading into the playoff push.
"I have lots of energy," Berdin said following practice. "I feel fresh, I feel good.
Berdin admits the team needs to put together some more wins, starting Thursday against Chicago, if they want a shot at the post-season.
"We need to win games," he said. "We aren't winning enough games for playoffs. We need a hard push right now and we need to be ready for (the) next game and try and get points every game."
The Moose return home to take on the Chicago Wolves on Thursday, Feb. 6. Puck drop is scheduled for 7 p.m. The matchup will be broadcast on moosehockey.com/listenlive.