Jan. 8 Practice Report – Moose Get A Boost From Busy Week
By: Mitch Peacock | Published: January 9th 2019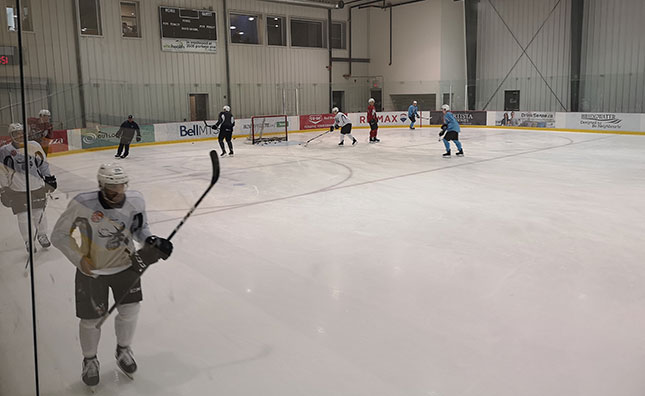 Five games in just seven days with a trip to Texas thrown in awaited the Manitoba Moose coming out of their holiday break.
No easy assignment, especially for a team looking to climb back into the playoff race in the Central Division.
But today, the Moose returned to practice at Bell MTS Iceplex upbeat after a shootout win in Austin Saturday gave them three victories during that difficult span.
"That was a great win for us, we just got to build off that I guess – the way we played there against a pretty good team at (their) home, said defenceman Jimmy Oligny after today's skate. "So, just got to bring the same game every night, be consistent, you know play within the system the coaches have given us. We've got good enough players to go up in the standings, that's for sure."
Oligny, who was acquired from the Vegas Golden Knights last week, wasted little time making an impact with his new team.
The 25 year-old debuted in Friday's series' opener in Austin just hours after his flight from Chicago arrived.
Then, Oligny earned his first point with Manitoba Saturday when he assisted on Peter Stoykewych's game-tying goal late in the third period as the Moose ended the Stars' seven game home-ice win streak in a five-round shootout.
Meanwhile, defenceman Tucker Poolman skated with the team today. The club is targeting Saturday for his return to game action. The second-year pro has been out of the lineup since November 23 with a concussion.
Manitoba begins a six-game homestand Thursday night against the Montreal Canadiens' affiliate, the Laval Rocket.
Saturday's rematch between the Moose and Rocket is Military Appreciation Night at Bell MTS Place with the Moose wearing specialty jerseys to help mark the occasion.
Goalie Ken Appleby on recognizing those who serve.
"All of those people are making endless sacrifices for us to be able to be here and do what we do on a day-to-day basis. You know, that's one of the most selfless things – in my opinion – that they could do so I don't know what (more) to say when it comes to something as special as that."
The specialty jerseys the Moose will wear Saturday will be auctioned off to raise funds for a cadet scholarship program, for more information you can visit moosehockey.com.
For tickets to all Moose games, visit moosehockey.com/tickets.