Jan. 9 Practice Report – Moose Prepare For Rocket
By: Mitch Peacock | Published: January 9th 2019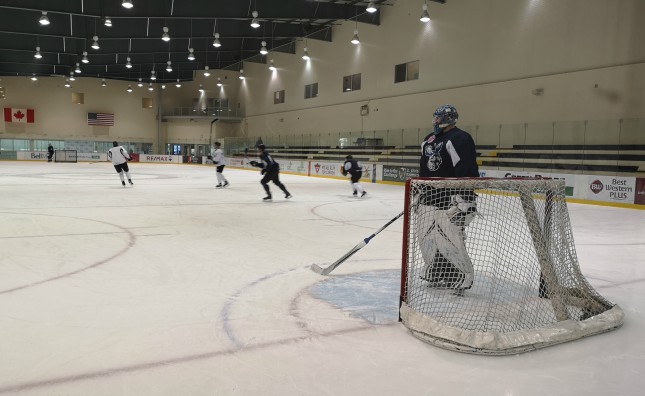 With a big series against another team hungry to get into a playoff spot about to begin, the Manitoba Moose got in another good practice session at Bell MTS Iceplex today.
The Moose host the Laval Rocket, American Hockey League affiliate of the Montreal Canadiens, Thursday and Saturday, with both sides eager to build recent success to keep post-season pushes going.
While the Rocket have at least a point in five straight (3-0-1-1), the Moose have won their last two home games and snapped the Texas Stars' home win streak at seven games with a win in Austin last Saturday night.
Manitoba's Cam Schilling on a recent run of success built on a foundation of being tough to score on.
"First and foremost, our goalies have been great.  That's probably the biggest reason why we've been so good defensively," said Schilling after today's skate at Bell MTS Iceplex."And then, just from the defence all the way up to the forwards everybody – kind of – holds themselves accountable in the d-zone. And, I think we know at this point in the season we're not a high-scoring offence by any means so we can't give up much and I think we've kind of all bought into that."
Manitoba has allowed just 1.8 goals per game in its last five outings, including giving up only one goal total in its last two home games.
Leading the charge is starter Eric Comrie who brings a .956 save percentage in his last four starts going into the Laval series.
Comrie watched Ken Appleby work in Saturday's win in Austin, and liked what he saw.
"That was huge I thought. I mean, we played really well – maybe not so great the first period in San Antonio – but other than that we had a really good road trip. We really bounced back in that second period in San Antonio and carried it really throughout the whole trip and I was really pleased with our team's effort. To get those two points at the end was huge for us and just really confidence building."
Appleby made 26 saves in regulation time and four more in the shootout for his first win as a member of the Moose.
Manitoba swept Laval last season, including a shootout win at Bell MTS Place to go two-for-two against them in downtown Winnipeg.
The teams clash Thursday night at 7 p.m. and Saturday at 6 p.m. for Military Appreciation night featuring the team in a limited edition jersey honouring the Canadian Armed Forces.  Tickets for both games are available at moosehockey.com/tickets.