Jan. 11 Practice Report – Moose Work to Build on Results
By: Mitch Peacock | Published: January 11th 2019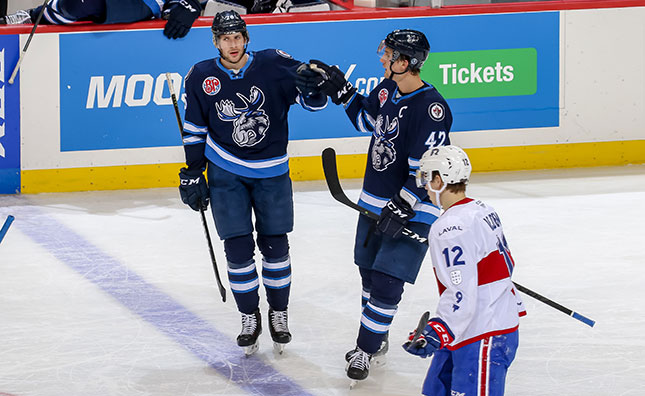 The Manitoba Moose continued their post-holiday break revival with a 4-0 win over the Laval Rocket at Bell MTS Place last night, but it was back to business at the club's practice facility today.
Divided between off-ice work for some, and an on-ice session for others, the players were equal parts recovering from a scrappy series opener with the Montreal Canadiens' affiliate and gearing up for tomorrow's rematch.
The Winnipeg Jets' American Hockey League club improved to 4-2-0-0 since returning from the break thanks to goals from four different scorers and 35 stops from Eric Comrie who was named the game's first star.
"I felt good. I mean it was nice, first time in new pads. It was kind of nice, first time I've switched pads all year and it was nice getting into new ones," said Comrie last night after the win. "I think our team played really well. I'm mean we played really solid. They made it easy for me. We made a lot of backdoor plays that stopped them from making tap-in goals and it just helps me out a lot."
Comrie now leads the AHL in saves, the shutout is his second in five games, and his .921 save percentage sits fourth in the AHL.
Cam Schilling, Alexis D'Aoust, Jansen Harkins, and Marko Dano scored for the Moose who matched a season high with their third straight home win.
Schilling's first of the season held up as the game-winning goal for Manitoba, now 9-8-0-0 at home.
Rookie defenceman Logan Stanley continues to grow into an all-situations contributor, something he says stems from keeping to the basics.
"Making the simple plays is what's going to get me to the NHL, and that's going to be a big reason for if I have a long NHL career. That's what – talking to the coaches – that's when I'm most effective is when I make that simple play and get the puck out and get the puck in."
Stanley has seven points (2G, 5A) in 32 games, including two points on the power play.
With last night's success the Moose have outscored their opponents 12-1 in taking three in-a-row at home.
It's Military Appreciation Night tomorrow (6 p.m.) at Bell MTS Place with the Moose wearing specialty jerseys to mark the occasion – jerseys to be auctioned off in support the Hubble Awards, a cadet scholarship program.
Tickets are available at moosehockey.com/tickets.