Jan.21 Practice Report – Moose, Comrie Rolling
By: Mitch Peacock | Published: January 21st 2019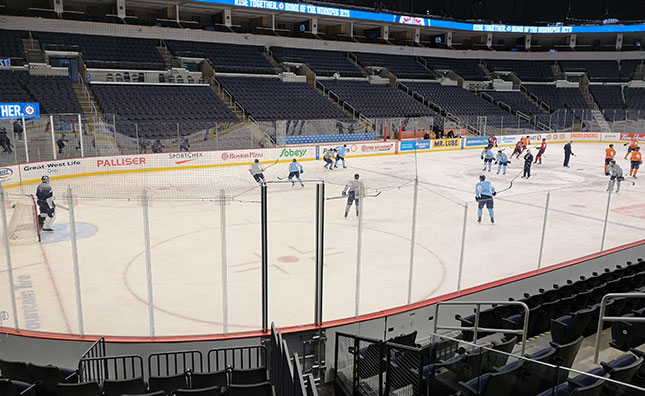 It wasn't perfect, but it was darn close.
The Manitoba Moose dumped the San Antonio Rampage 4-2 Sunday at Bell MTS Place to wrap up a six game home stand with five wins and a shootout loss.  Tack on a victory in Austin, Texas prior to the home stand, and the Moose are the hottest team in the American Hockey League with a point or better in seven in a row (6-0-0-1).
Back in the playoff conversation after being slowed by injuries and call-ups, the Moose were an upbeat bunch at today's practice in downtown Winnipeg.
Defenceman Tucker Poolman has impressed with three points in five games since returning from a concussion, and he offered this insight on the team's turnaround
"At the beginning of this home stand, coach called us in and we had a meeting one morning.  Just talking about the second half of the season, the numbers, what kind of games we had to put up, and what kind of wins we had to string together. What type of hockey we needed to play. And, it kind of refocused everyone and had that reset, like you said, and since then it's been a little bit… just been (more) focused and execution has been there so it's been good."
Bigger picture, the Moose have an 8-2-0-1 record since returning from the holiday break, to climb within six points of a post-season spot after going into Christmas more than a dozen out.
Poolman, Cam Schilling, and Logan Stanley provided three of the goals in Sunday's win as the d-corps grabbed the offensive spotlight to secure the sweep of the Rampage.  Up front, Seth Griffith added two assists to extend his point streak to six games (1G, 8A).
Goalie Eric Comrie played all six games on the home stand and posted a 1.95 goals-against average and .943 save percentage.  Today, the fourth-year pro was recognized as the CCM/AHL Player of the Week for going 4-0-0-0 with a .949 save percentage over the last seven days.
Comrie says he likes where he's at since an early-season re-set.
"I didn't like what I saw my first two games so I went back and actually watched a lot of footage, just through different years just seeing games when I was on what I was doing well when I was playing. And, I went back and looked at that stuff and I made some adjustments and I felt I've played the same game throughout the whole year. I might not have gotten the same results, but I think if you do the little things over and over right you're going to start some breaks and that's what's going to happen."
The Moose look to keep it going when they hit the road this week.
Wednesday the team starts a three-city Central Division trip with a game in Grand Rapids, Mich. and you can listen live on moosehockey.com, the Moose App, and TSN 1290 or watch on AHLTV starting at 5:45p.m. Central.