Mar. 4 Practice Report – Hunting for Playoff Spot
By: Mitch Peacock | Published: March 4th 2019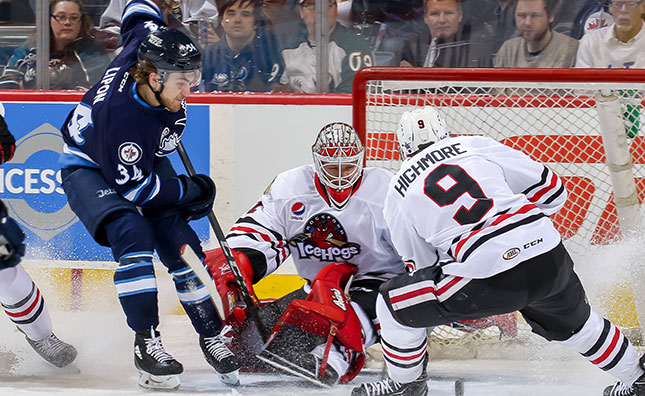 The Manitoba Moose are doing what it takes to stay in the hunt for a playoff spot. Because of that, the club has a huge homestand coming right up.
Manitoba starts the week four points out of the last post-season berth in the Central Division with 18 games remaining, including the next six at home. It's a stretch that includes the next four against Central Division rivals, Rockford and Texas, who are battling to secure spots themselves.
The Moose are back in the city after a competitive six-game road trip out east that saw them in every game of two-game series in Toronto, Laval, and Belleville.
A loss to the Senators in Belleville Saturday put an end to a two-match win streak. Following the game, captain Peter Stoykewych was all about moving forward.
"Unfortunately, at the end of the year the only thing that matters is how many points you have. We have a goal set in our room, and that goal is to make the playoffs, and we're going to do everything we can to do that. Since the Christmas break we've put ourselves in a good position heading into the last twenty games here. So we're going to continue to push and try to get points every night."
Despite a 2-4-0-0 visit to Eastern Canada, Manitoba is six games over .500 since Dec. 30, and enters this homestand with just one regulation loss on home ice in its last dozen downtown (10-1-0-1).
Next up, the Rockford IceHogs Saturday and Sunday at Bell MTS Place before fellow Central Division dwellers, the Texas Stars hit town for two next week.
Of their 18 remaining games, the Moose play ten downtown and eight on the road, and match-up breakdown is interesting. Manitoba has ten games left against Central Division opponents, and eight to play against teams from the Pacific Division – a group they've gone 4-3-1-0 against so far.
"The second half of the season play goes up (in calibre) and you've got to give yourself a chance every night, especially in the playoff battle that we're in right now," said Stoykewych before the team left Belleville Saturday night. "We're aware of it and it's something we're focused on and we weren't able to get two points here tonight, and weren't able to accomplish our goal, but we're heading home here and have six at home so if we can get the ball rolling again here we'll be just fine."
Saturday evening's game against the Chicago Blackhawks' affiliate is the annual Austism Awareness game which means the Moose will wear specialty jerseys for the occasion.  Those jerseys will be auctioned with proceeds going to support the work at St.Amant.
Visit moosehockey.com/tickets to reserve your spot for the big game!