March 8 Practice Report – Moose Prepare For IceHogs
By: Mitch Peacock | Published: March 8th 2019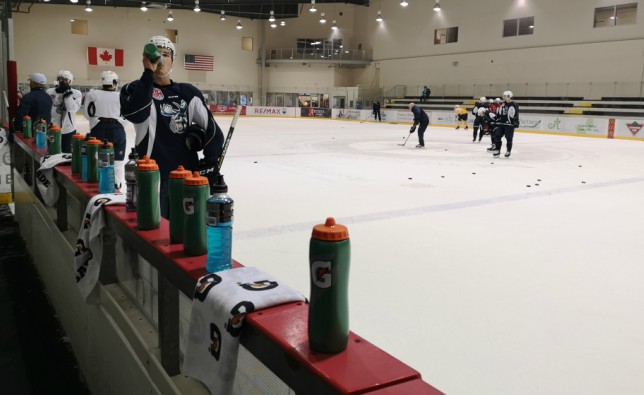 A strong couple of months have the Manitoba Moose back in the hunt for a playoff spot, and the energy that brings was evident at today's workout at Bell MTS Iceplex.
An upbeat and enthusiastic Moose got in its final workout of the week this morning at the west Winnipeg practice facility.
Manitoba finds itself part of a five team dogfight for the final post-season berth in the Central Division, and tomorrow night the Moose host the Rockford IceHogs – one of the teams they're looking to overtake in the playoff chase.
A more complete lineup, strong team chemistry, and improved attention to detail have helped Manitoba compile a 16-10-1-2 mark since late December. The numbers are most impressive on home ice, with the Moose 12-1-0-1 in their last 14 starts at Bell MTS Place.
As for the Moose and IceHogs, the teams have split two meetings this season with each game decided by shootout.
A tough test, but one the team is looking forward to as they open a six-game homestand with 18 games remaining in the regular season.
"We know that we can play with these guys. We know that we can beat them," said Manitoba's top goal-getter Logan Shaw after today's practice. "We're a good team. They're also a good, fast, hard-working team but I think it's important for us – like I said – for us to come out (strong) in the first ten minutes. I mean they haven't played in just as long of a stretch as we have so I think for us it's to bring it to them in the first ten minutes."
Manitoba hasn't skated in game action since falling in Belleville last Saturday night, while Rockford has been idle since an overtime victory in Grand Rapids last Friday.
The Moose enter the weekend four points behind Rockford for the final playoff spot.
Saturday's six p.m. faceoff is also Manitoba's Autism Awareness Game with the club wearing specialty jerseys to be auctioned off in support of the St Amant Foundation.
"It's so important (to give back) to be honest," said defenceman Charles-David Beaudoin about the club's community involvement. "We're hockey players, but we're human beings. We want to make a difference, and we're lucky enough to play hockey for a living. So, when we have time to give back – and feel good about ourselves – and enjoy a good time off-the-ice with those kids it's just amazing to be part of this community."
In addition to Saturday's 6 p.m. start, the Moose and IceHogs meet again Sunday afternoon at 2 p.m.
For ticket information visit moosehockey.com/tickets.