PRACTICE REPORT: Moose Welcome Letestu, Lodermeier Ahead of Road Trip
By: Austin Siragusa | Published: March 10th 2020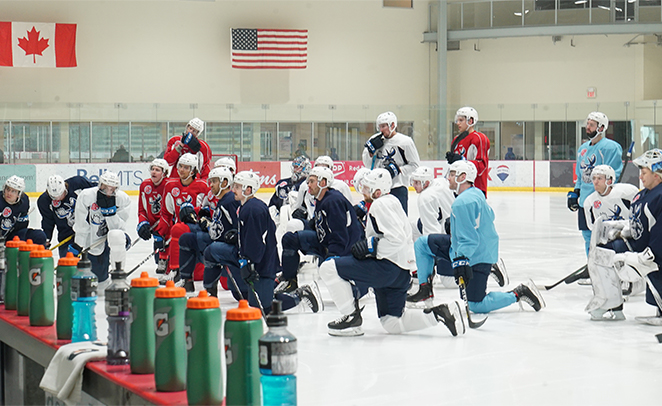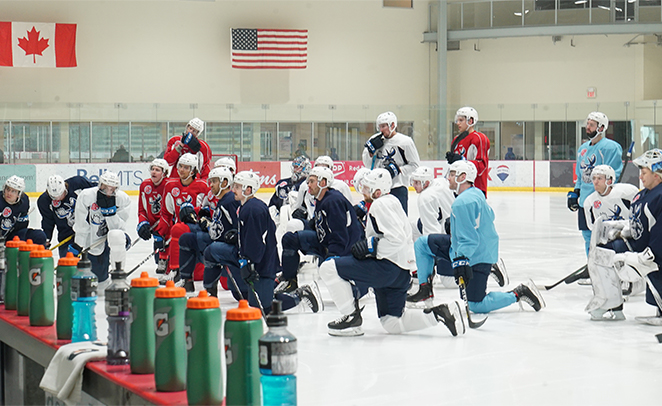 Ahead of their second longest road trip of the season, the Manitoba Moose held practice at Bell MTS Iceplex Tuesday.
A number of new faces took to the ice, as the Winnipeg Jets assigned forward Mark Letestu to the team on a conditioning assignment, the Moose also signed forward Derek Lodermeier to an amateur tryout agreement.
Letestu has suited up in just seven games for the Jets this season. The veteran forward missed most of the 2019-20 season due to an illness, but is excited to finally return to the ice.
"When you get that much time off the ice you want to test yourself," Letestu said following practice. "Today was more of a test than I've been getting in the smaller skates with the Jets."
"To be back out there with all the bodies, a lot of enthusiasm, bumping guys, it was good to test myself."
Letestu brings over 250 games of AHL experience to the table, and was excited to reconnect with young forward David Gustafsson.
"He's certainly talking a lot more," Letestu said with a grin. "You can tell he's more comfortable. I think sometimes when you're a 19-year-old in the National (Hockey) League locker room it's easy to be quiet and get into the background. Here you can tell it was the right decision to come here where he can get confident and be himself in the group and you can see his game taking steps."
Lodermeier joins the Moose following four years at the University of Vermont. The 25-year old forward had 11 points (6G, 5A) in 34 games in his senior season, and served as the team's captain since 2018.
"(I'm) super excited," Lodermeier said following his first skate with the team. "After having a tough season out at Vermont, quick turnaround here and I'm excited to get things going with the Moose here."
The Moose take on the Milwaukee Admirals on Friday, March 13. Puck drop is scheduled for 7 p.m. CT. The matchup will be broadcast on TSN 1290 and moosehockey.com/listenlive.