March 12 Practice Report – The Playoff Push Continues
By: Mitch Peacock | Published: March 12th 2019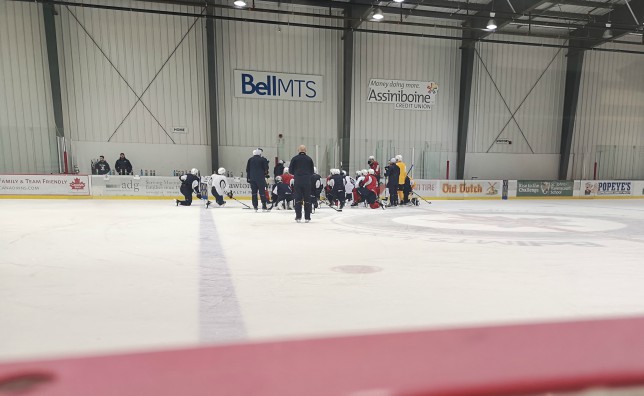 The Manitoba Moose were back on the practice ice at Bell MTS Iceplex today, gearing up for the next critical series in their push to get back to the playoffs again this season.
Manitoba takes on the Texas Stars in a two-game set starting tomorrow night in downtown Winnipeg, and the Moose are just four points behind the Stars for the final post-season spot in the Central Division with 16 games remaining.
Sacrifice is part of helping a team be its best when the season is on the line, and the Moose are getting plenty of that down the stretch.
Top-scorer Seth Griffith had a key shot block in Sunday's 2-1 overtime win over Rockford, and head coach Pascal Vincent took note.
"A guy like Griffith, he's here to produce offense, to make plays, but he's committed to winning and that's also being able to be in the shooting lanes and when players like this do it it tells you about the mindset of our team."
Manitoba has won three in a row against Texas including two at Bell MTS Place last month, and owns a 4-1-0-0 mark for the season against the Dallas AHL affiliate.
Heading into the midweek matchup with the team from Austin, the Moose have swept six of the last eight series on home ice.
It's a success forged on team play, and not relying on loads of scoring. Stingy defensive play has proven central to the club's playoff hopes.  Two goals-against in their two weekend wins over Rockford is the latest proof of that ability to limit opponents. Goalies Eric Comrie and Mikhail Berdin continue to shine, with Comrie leading the AHL in minutes played and saves, while earning a career-high 21 victories so far.
Veteran defenceman Cam Schilling is a team leader and key component of the team's defense corps, and held nothing back when asked about the team's puck stoppers.
"We're not getting a ton of offense this year so we're going to rely heavily on our goaltenders and they've been unbelievable all year. Stealing games and keeping us in games maybe we shouldn't be in. So you have to tip your hat to them every time you can because they're probably the main reason that we're able to kind of string some of these wins together when we are, especially at home."
Manitoba is among the league's best with a .912 team save percentage, and the club is on the brink of cracking the top ten in goals-against average with a 2.97 mark.
Rookie Mikhail Berdin blanked Texas with 34 stops the last time the teams met up, and the Moose know it'll take something special once again to get by a Stars team that went to the Calder Cup Final last season.
Tickets for both games against the Stars are available at moosehockey.com/tickets.