March 14 Practice Report – Success at Home a Habit
By: Mitch Peacock | Published: March 14th 2019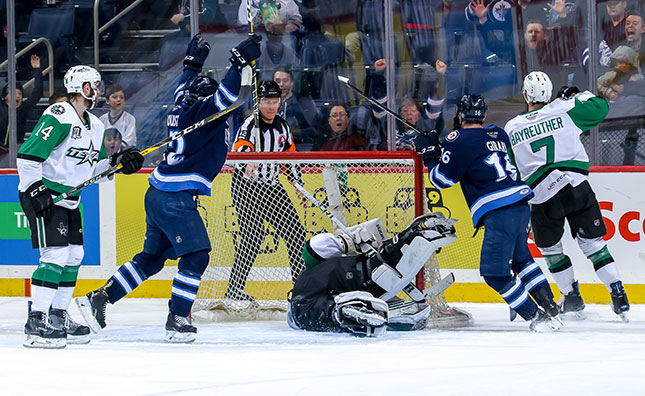 Pro athletes are often creatures of habit, so today's skate at Bell MTS Iceplex had a familiar feel to it with the usual ebb and flow to the morning.
But it seems winning is also a habit, one built on repeating the right patterns of preparation and execution. Something the Moose have done with impressive regularity on home ice since returning from their Christmas break.
What started with a series sweep of the Colorado Eagles in late December has now become 15 wins in the team's last 17 games at Bell MTS Place (15-1-0-1). The latest in that run of success came last night as the Winnipeg Jets' American league team edged the Texas Stars 4-3 downtown to move within two points of the Stars for the final playoff spot in the Central Division.
Veteran defenceman Cam Schilling had two points in the see-saw affair, including the 150th point of his AHL career, points that sent the game to the third period with the Moose managing a 3-2 lead.
Holding back the potent Stars offense is a challenge Schilling says involves several elements to negotiate effectively.
"It's obviously good defence, but we need to stick with our o-zone play and pushing the pace. We don't want to give that team too much. I feel like we maybe gave them a little too much there in the third. We had some good saves there from Coms, but I think the biggest thing is to have the confidence that we can pull games out and I think we've done that as of late. So, I think that gives us enough confidence to win games."
Felix Girard scored the game-winning goal in the third period just under four minutes after Texas tied the game 3-3.
Manitoba is now 21-9-0-1 at home with a rematch against Texas Friday night at Bell MTS Place.
Back to the pressure cooker of the quest for the post-season, right?
Not exactly, says Jansen Harkins.
"I think we're kind of used to it by now. I think when everyone was talking right after Christmas, I know I had a few interviews where I was saying it's pretty much playoff hockey then, and a month-and-a-half, two months later and we're still saying the same thing" said Harkins not long after setting up Wednesday's game winner. "So, I think hopefully we can get there (the playoffs) and we'll be used to it by then right? So yeah, we've been playing good lately, especially at home, and I just want to keep it going the rest of the homestand here."
Manitoba is takes a 5-1-0-0 record against Texas into Friday's game, the teams will meet again in Austin on March 27 when the grind of the push for the playoffs will be a habit the Moose have no intention of giving up.
Tickets for Friday's 7 p.m. game against Texas are available at moosehockey.com/tickets.