March 26 Practice Report – Moose Recharge as Race Resumes
By: Mitch Peacock | Published: March 26th 2019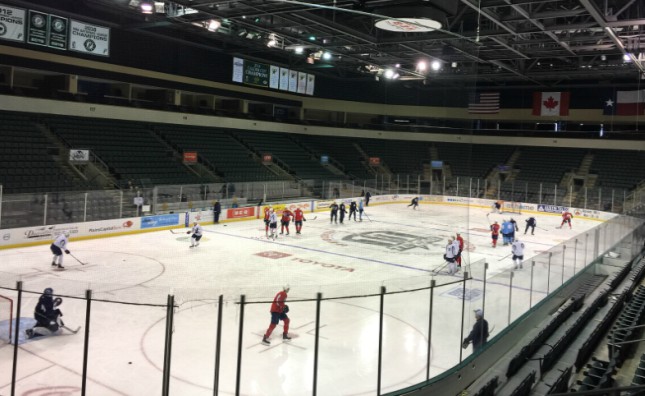 The battle for Calder Cup Playoff entries is going down to the wire and the long grind of the regular season is adding up on the players.
After a travel day Sunday, and a light day of training yesterday for the Manitoba Moose, tanks are a little more full as preparations ramp up for tomorrow's game here in Texas against the Stars.
Also up is Manitoba's confidence after sweeping the Eagles in a hostile environment on the weekend to move into a post-season spot.
"It's huge. We're playing playoff games. Every game for us is a playoff game," said veteran Logan Shaw after working out at The H-E-B Center in Cedar Park, Texas. "That's, right now, why I think we're being successful. But, we have to keep that going. Every game is huge, and important for us. And, coming in to playoffs – if we get that final spot – it's going to be the same games. They're going to be close games. They're going to be hard-fought games, and it's not going to be an easy spot for us so every game for us now is the exact same way."
Shaw leads the Moose with 25 goals, one more will make him the top single season goal-getter in the club's 2.0 era.
With eight wins and an overtime loss included in their last eleven starts, the Winnipeg Jets' American Hockey League team has moved into the final playoff spot in the Central Division, just a point ahead of tomorrow's opponent.
Two weekend wins in Colorado featured stellar goaltending, scoring from the d-corps, and clutch special teams play.
"That's how you win games. That really is how you win games this time of the year. You have to lock it down defensively, and five-on-five, and then obviously the PK on the weekend was huge for us – especially in the third period on Saturday night," said Shaw. "It sucked getting all of those penalties, but for the team to step up and kill those off… that's a big thing for us coming down to the end here. Same as the power play. Sometimes you want to score more on the powerplay, but if you get timely goals that's the biggest part of it."
Manitoba got its game-winner on the power play Friday in Colorado and came back to tie Saturday's rematch with an extra-strength goal. Shaw leads all Moose players with ten goals on the man-advantage.
Meanwhile, the penalty kill has nullified 32 of the last 36 chances against.
Tune in to coverage of Wednesday's game on TSN 1290, moosehockey.com/listenlive, the Moose App or streamed live on AHLTV.