Nov. 5 Practice Report – Streak Ends, Comrie and Poolman Return
By: Mitch Peacock | Published: November 5th 2018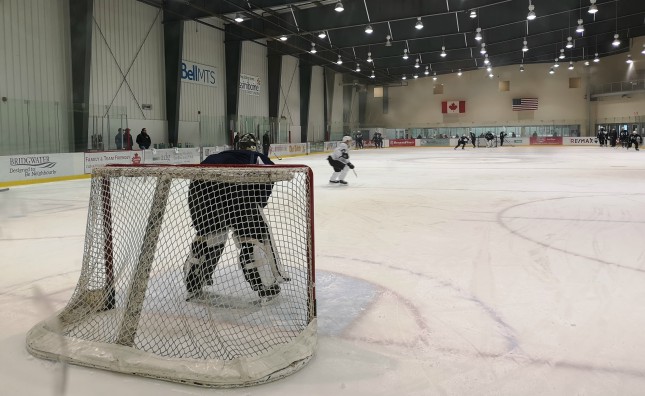 After a day off highlighted by a visit to the Assiniboine Park Zoo in celebration of the club's partnership with that community jewel, it was back to practice this morning for the Manitoba Moose.
The Winnipeg Jets' American Hockey League team is working hard toward starting another hot streak after a run of three straight wins ended with Saturday's setback against the Chicago Wolves.  The game followed less than 24 hours after the Moose edged the Vegas Golden Knights' affiliate in a wildly entertaining outing at Bell MTS Place, and was Manitoba's fifth contest in just eight days with some heavy travel mixed in.
Afterwards head coach Pascal Vincent was clear there were both positives and areas for improvement for his team to keep in mind.
"It wasn't pretty. We don't like the result, but we found a way to stay in the game. We had a push. We made some mental mistakes related to experience, related to fatigue so we need to find a way to win those games or find a way to be closer in the third period – last ten minutes one goal difference – then you have a real chance to win those games"
Despite the loss, Manitoba has four wins in six home games and sits at 6-5-0-0 overall.
Now the Moose are gearing up for the final two games of this home stand and they've got a couple of key players back for the challenge.
Defenceman Tucker Poolman and goalie Eric Comrie returned to practice this morning.
The pair accompanied the Jets to Finland for their Global Series games against the Florida Panthers and got back into town Saturday.
Comrie had some on-ice time with Jets' goalie coach Wade Flaherty while overseas and spent a lot of time in the gym.
As Eric says, it was quite a change for a starter who's used to grind of the regular season.
"Not a lot of guys get a week to kind of get away from games a little bit and just focus on your game, practice with the goalie coach there and get some good off-ice workouts. So that's kind of a different thing for myself. I've never done that before and I'm kind of excited to see the results I get from it."
Comrie has won his last three AHL outings with a stellar .951 save percentage along the way.
Manitoba went 3-and-2 in the absence of their number one goalie.
The Moose host the Grand Rapids Griffins, AHL affiliate of the Detroit Red Wings, Thursday at 7 p.m. and Saturday at 6 p.m. at Bell MTS Place.  Tickets are available at moosehockey.com/tickets and the Moose App.