Practice Report: Moose confidence grows during win streak
By: Austin Siragusa | Published: November 16th 2019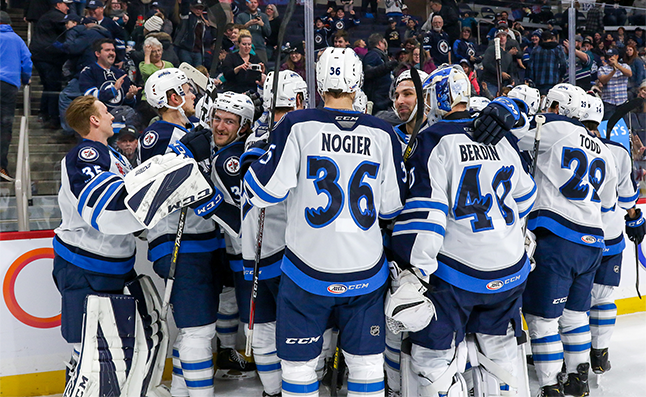 The Manitoba Moose were back to practice Saturday afternoon at Bell MTS Iceplex following a 2-1 overtime victory the previous night against San Antonio.
After beginning the season with a 1-7-0-0 record in October, the Moose have now won seven of their past eight games in November. The team's current five-game winning streak brings their record to 8-8-0-0.
"I think (the confidence) is better than it was," Moose defenceman Nelson Nogier said. "When you start to get some numbers in the win column it's reassuring that you are starting to do the right things right."
One of the big factors of the club's recent success has been the play of goaltender Mikhail Berdin, who has stopped 180 of the last 183 shots he has faced.
"He's unbelievable," forward C.J. Suess said. "The first two periods of the last game he's kept us in it and he's been really strong for us back there."
The club also recalled forward Alexis D'Aoust from their ECHL affiliate, the Jacksonville Icemen, on Friday. D'Aoust, 23, has five points (3G, 2A) in 10 games with Jacksonville this season. During the 2018-19 campaign, D'Aoust posted 12 points (7G, 5A) in 42 games with the Moose.
"I'm really happy to be back here," D'Aoust said following practice Saturday. "I know a lot of guys in the room so it's great to see all these guys again and I'm happy to be here.
The Moose take on the San Antonio Rampage on Sunday, Nov. 17 at Bell MTS Place. Puck drop is scheduled for 2 p.m. Tickets are available at moosehockey.com/tickets.