Practice Report – Nov. 22: Prepping for Iowa
By: Manitoba Moose Staff | Published: November 22nd 2018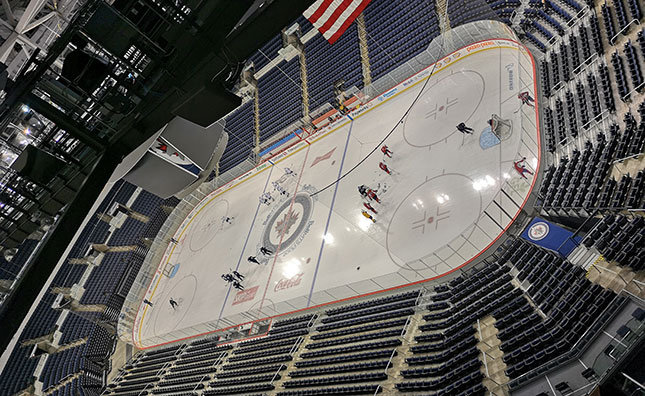 The Manitoba Moose held their final practice before a weekend set against the Iowa Wild at Bell MTS Place.  It's a brief stop at home for the Moose, who head to California for a six game road swing following their back-to-back against the Wild.
Sitting second in the Central Division, the Wild took the first two games of the season series in Des Moines to open the campaign.
Moose forward Ryan White is very familiar with the club after playing 23 games for Iowa last season.  The veteran isn't surprised to see the Wild having success this campaign.
"It's a good group of guys at the rink (in Iowa).  It seems like they got a lot of them back (this season).  It's kind of that thing in the American League where you get the same group back and you're a little ahead of some other teams.  It seems like they're playing some pretty good hockey right now."
The Moose hit this two-game stint on home ice with a 5-3-0-0 record at Bell MTS Place.  Goaltender Eric Comrie has been a big part of the team's success at home, owning a 4-1-0 record which is supported by a 2.01 goals-against average and a 0.955 save percentage in five appearances.
Despite the team's stronger home record, Comrie doesn't see much, if any, difference between the way the club plays at home versus on the road.
"I think it's just the way it sometimes works.  You try to put in the same effort in every single night, you try to do the same routines and things like that.  I mean, sometimes games go better than other games, and lately we've had better games at home than on the road."
On the offensive side of the puck, JC Lipon rolls into this weekend's action with three goals and seven points in his last six games, while newcomer Logan Shaw has five points in four games since joining the Moose.
Puck drop tomorrow is slated for 7 p.m. CT, and the teams clash again in a 2 p.m. matinee the following afternoon.  Saturday's matchup is the first Moose Hockey Fights Cancer game in support of Camp Quality Manitoba.  Tickets for both games are available at moosehockey.com/tickets.
Coverage of both games can be heard on moosehockey.com/listenlive, with tomorrow's game joined in progress following the Winnipeg Jets game in Minnesota.