Nov. 26 Practice Report – Dano Joins Moose
By: Mitch Peacock | Published: November 26th 2018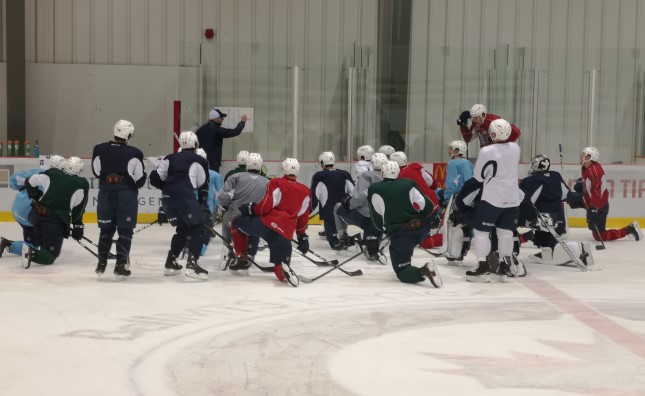 With another long stretch on the road straight ahead, the Manitoba Moose added a familiar face to the organization at practice this morning.
Winger Marko Dano skated with the team for the first time since being claimed on waivers from the Colorado Avalanche.
Dano, who started his fourth season with the Jets before being claimed by the Avs, had this to say about his time in Denver.
"I was hoping to get more minutes up there and more opportunity, but you know it was kind of my fault too that I didn't adjust quick enough to get more chance on the ice. And, you know, it's hard to pick up a new system so circumstances there didn't work out for me, but you know everything happens for a reason.  So I'm happy to be here, and I'm going to focus on my game here."
Dano has 22 points in 82 career games for the Jets and recorded two points in a half dozen Moose games two years ago.
The physical winger's arrival comes at a good time for the Moose.  They're heading off on a six-game road trip Tuesday morning and can use the added skill and experience.
The Winnipeg Jets' American Hockey League team is off to California where it plays six consecutive games.  The trip is the last part of a hectic stretch where the Moose suit up for 10 of 12 on enemy ice.
Manitoba's departure comese after a split with the Iowa Wild in downtown Winnipeg on the weekend. A split that leaves the club at 9-9-1-0 on the season.
With a quarter of the season in the books, head coach Pascal Vincent is pleased with his team's progress – especially after a solid showing against an impressive Wild squad.
"We were able to play four lines, it was a pretty good weekend for us. I think we're coming together – (we) gave ourselves 20 games to have a real good evaluation of our players, and I think we have a pretty good read right now on what's going on."
With that weekend split against Iowa, the Moose finished 8-6-1-0 in a run of 15-straight against Central Division rivals.
Next up, six outings versus the Pacific Division starting with games Wednesday and Friday nights in San Diego, before moving on to Bakersfield to face the Oilers' affiliate Saturday night.
Tune in to coverage of Moose hockey on TSN 1290, moosehockey.com and the Moose App starting 15 minutes before puck drop.