Nov. 29 Practice Report – Moose Learning What It Takes
By: Mitch Peacock | Published: November 29th 2018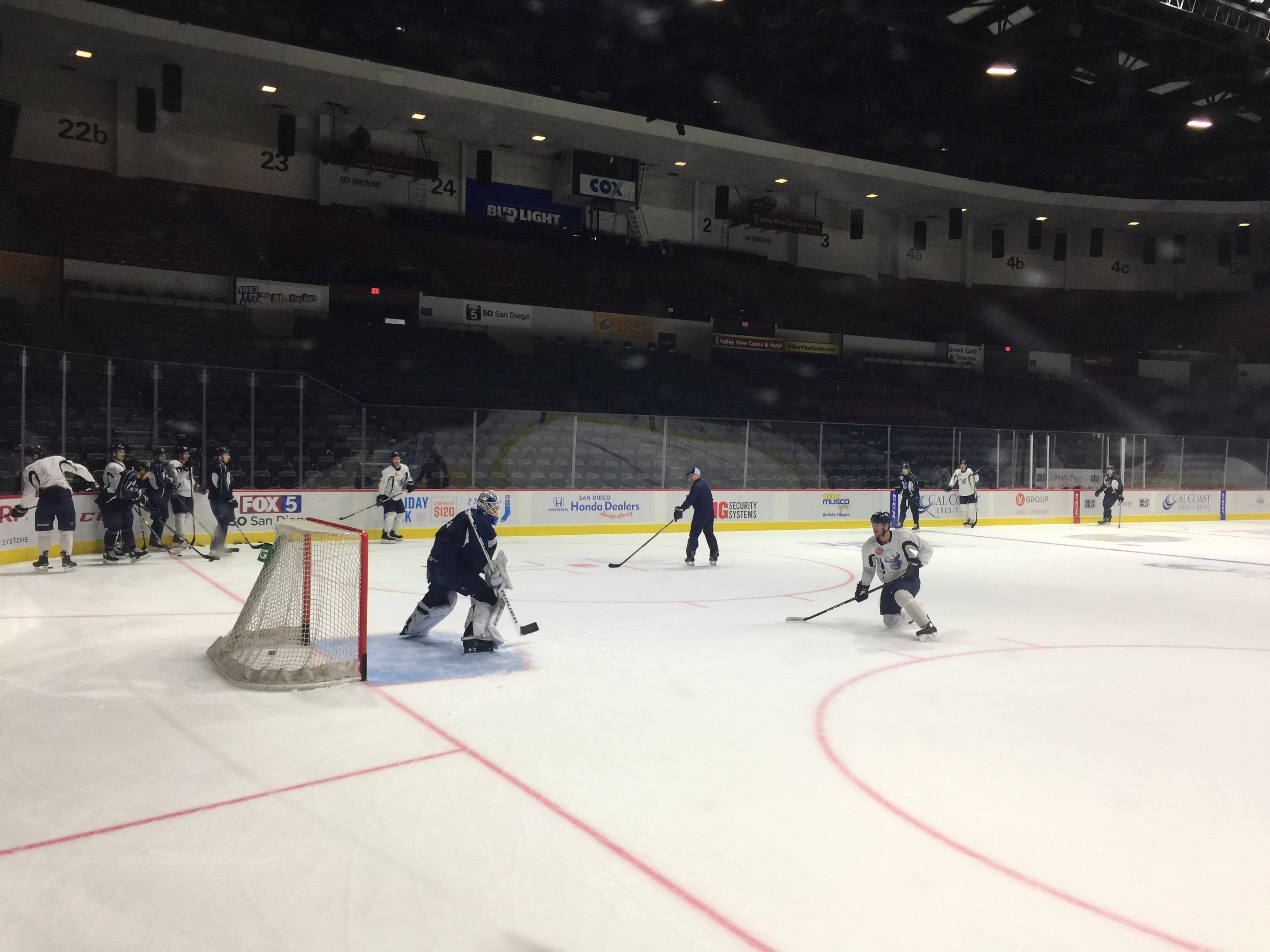 It was back to practice today for the Manitoba Moose here in San Diego, but the good feelings were still fresh around the club after a solid win over the Gulls last night.
Centre Logan Shaw notched a natural hat trick, all three by way of the power play, as Manitoba romped to a 5-1 win over the Gulls to start six straight on the road in California.
Shaw, a recent Jets' signing, started the season with San Diego on an American Hockey League contract before getting the call from Winnipeg.
Marko Dano had two assists playing alongside Shaw, while Seth Griffith had three helpers, on a big night for the newly assembled line.
Shaw extended his point streak to five games with the three goals, and he's now three back of Mason Appleton for the team points-lead.
Moose winger Seth Griffith on the power play turnaround.
"We were due. I mean, it's been a long time coming. We were three-for-three and then we missed on the last one, but any time you go three-for-four it's great. I think we kept it simple. We knew they wanted to pressure really hard, and I think we did a really good job sticking to the plays we've been working on and it paid off."
The extra-man goals were the first on the road for the Moose this season.
Eric Comrie was stellar in the Moose net with 31 saves in his club-record 149th appearance.
Manitoba improved to 10-9-1-0 with the victory.
Now twenty games into the new season the Moose have come to understand who they are.
As a close-knit, determined, and offensively-challenged bunch – this year's team is finding ways to grind out wins.
Wednesday's victory was the team's first-ever in San Diego after dropping their first to tries here two years ago.
Manitoba assistant coach Eric Dubois on the team's awareness of what it takes for them to be successful.
"We have to work every shift. We have to compete every night if we want to give ourselves a chance to win and so far I don't think we've been, maybe a couple games here and there that we were not really good that night, but if you look back maybe there's 16, 17 games where we compete and give ourselves a chance to win and that's exactly what we're asking our boys to do every night."
Game two of this two-game set with the Gulls goes tomorrow night at Valley View Casino Center, and you can catch all the action starting with the pre-game show at 8:45 p.m. CDT on moosehockey.com, the Manitoba Moose App, TSN 1290, or AHLTV.