Nov. 7 Practice Report – Moose, Schilling Embrace Central Division Stretch
By: Mitch Peacock | Published: November 7th 2018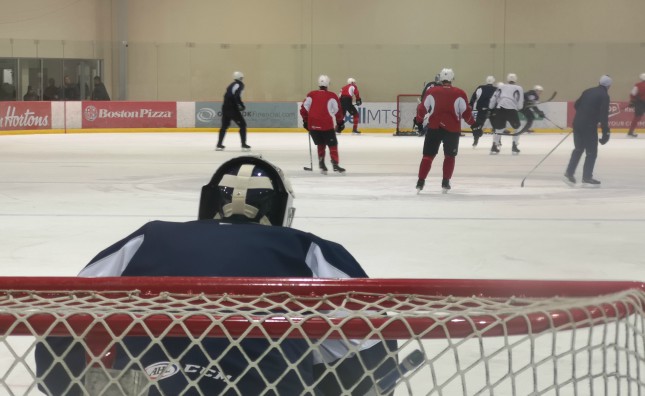 The Winnipeg Jets' American Hockey League team returned to practice today after a hard-earned day off yesterday.  A slow-paced first few weeks of the season allowed the Moose to make up for a lack of preseason games, and the team is coming together nicely.  Good thing too because the schedule is picking up and the matchups with divisional opponents are coming thick and fast.
Now seven games into 15 straight versus the Central, the Moose have collected five wins and suffered just two losses.  Next up, a two-game home set with the Grand Rapids Griffins before hitting the road for four straight.
Veteran blueliner Cam Schilling relishes the opportunity to see where the team stands.
"It's nice, I mean the Central is usually always pretty packed with some talent and good teams.  We're definitely in the thick of the schedule here with GR (Grand Rapids), and then going to Texas, and back in GR and Chicago.  So this will be a good, true test for us here to see where we are in the standings after this couple of weeks."
Schilling is tied with Sami Niku for the most points among Moose defenceman with five after a three-point haul against Chicago on the weekend.
Manitoba and Grand Rapids face off Thursday at 7 p.m. and Saturday at 6 p.m. at Bell MTS Place.
It's the first meeting between the two long-time rivals since their memorable playoff battle in the spring, one that went the distance before the Moose emerged with a game five victory in West Michigan.  While Manitoba's roster turnover is well-documented, Grand Rapids has also made some notable changes while returning an impressive core.
Going into tomorrow night's contest both teams are playing well with the Moose taking five of their last seven and the Griffs on a four-game point streak (3-0-0-1).
Moose Assistant Coach Eric Dubois on what's in store for the locals when they butt heads with Grand Rapids.
"It's pretty much the same core as last year so their chemistry is there. They played really, really well last game against Cleveland – they scored seven or eight goals. So, we'll have to be very sound defensively if we want to have some success against them," said Dubois fresh off the ice after practice this morning. "We don't want to spend as much time as possible in our zone (as at times lately) so we have to have some good clean breakouts – that's what I expect out of them. They play fast. They play a gritty game. We'll have to be really, really good."
The fifth-place Moose are a point up on the Griffins with both within reach of a coveted top four spot in the hotly-contested Central Division.
Saturday's series finale is Retro Jersey Night at Bell MTS Place, for ticket information for all Moose games visit moosehockey.com/tickets.